An Internal Meeting organised by NCJCM staff side before the final Meeting with 7th Pay Commission
NAC Meeting also expected on 9th June 2015
Shiva Gopal Mishra
Secretary
National Council (Staff Side)Joint Consultative Machinary
For Central Government Employees
13-C. Ferozshah Road. New DelhI – 110001
E Mall :[email protected]
No.NC/JCM/7th CPC/2015
Dated: May 30, 2015
All the Standing Committee Members
of the National Council, JCM (Staff Side)
Dear Comrades,
Sub:
Final meeting of the Standing Committee of the National Council JCM (Staff Side) with the 7th Central Pay Commission  will be held in the office of the Pay Commission at Delhi on 9th June 2015 at 11.00 am, an Internal Meeting of the Staff Side,NC/JCM will be held on 8th June 2015 at 15.00 hrs. in the office of National Council(JCM), 13-C, Ferozshah Road, New Delhi.
You are requested to attend both the meetings accordingly.
A copy of the letter dated 27th  May 2015, received from the office of the 7th CPC, is also enclosed herewith for your ready reference.
There is every likelihood of meeting of the National Anomalies Committee on 12 pending NAC items on 9th June, 2015 (Afternoon) with the Jt. Secretary(E) and Jt. Secretary(Pers.). As soon as we get letter to this effect, we will inform you, but you should be prepared for that too.
With fraternal greetings!
Comradely yours,
(Shiva Gopal Mishra)
Secretary(Staff Side)
NC/JCM
&
Convener
Source: http://auditflag.blogspot.in/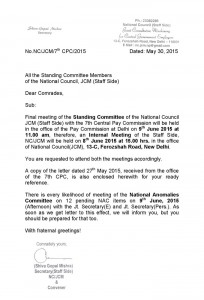 SEE : 7th Pay Commission Final Meeting with NCJCM Staff Side