7th Pay Commission has provided an illustrative example for the for the Purpose of Pay fixation in cases where the particular Grade Pay has been recommended to be Upgraded to the next higher Level in New Pay Matrix
Pay fixation for the Post where its Grade Pay Upgraded by Seventh CPC
In this case How the revised pay should be calculated has been described below..
'….Suppose, Ms. ABC, who is presently drawing a Basic Pay of ₹12,560 in GP 2400 (10160+2400), is upgraded to GP 2800 as a result of Seventh CPC's recommendations.
Then the fitment will be in two steps:
1. The new basic pay will be computed using the upgraded grade pay. The pay arrived will be as follows: Basic Pay: 10160+2800=12,960.
2. Then this value will be multiplied by a factor of 2.57 and then rounded-off to the nearest Rupee.
In this case 12960 x 2.57 = 33,307.20, which will be rounded-off to ₹33,307.
She will then be placed in the Pay Matrix in the Level corresponding to her upgraded Grade Pay, i.e. GP 2800 (Level 5 in this case) in a cell either equal to or next higher to ₹33,307.
In this case, her salary will be fixed at ₹33,900.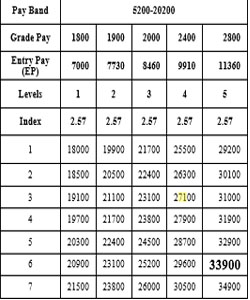 7th CPC recommendation for Pay Fixation on Promotion / MACP
When we get promotion or MACP , one increment and the differance between exisiting Grade Pay and Promotional grade pay would be granted on account of Pay Fixation in the Pre revised Pay. We used two get one increment and the amount of Grade Pay difference as the benefit of Promotion.
But 7th Pay Commission recommended merely …[ Continue Reading ]