Demand for Increase in the rate of additional pension and family pension to the pre-2016 pensioners as also reducing the age the eligibility for its receipt from the existing 80 years raised before 7th pay commission
The existing rates of additional pension and additional family pension are appropriate: 7th CPC
Though the demands were raised for increasing the rate of additional Pension, every body particularly those who are at the verge of attaining the age of 75 years, expected that age entitlement for additional pension will be reduced
Because the total percentage of pensioners from 80 Years to 100 Years age Bracket is just 10% of the Total 52lk Pensioners.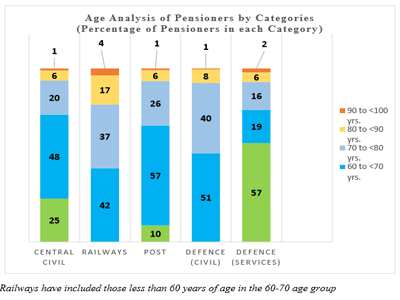 80 Years to 90 Years = 8.6 %
90 Years to 100 Years = 1.8%
It is justifiable demand that at the age of 75 years they are very much in need of extra care in respect of health and wealth. This demand would have been considered favourably by the 7th Pay commission.
But as the routine the commission sought the views of the government in this regard.
READ ALSO : Easy steps to Calculate your Basic Pension in 7th Pay Commission
Department of Pension and Pensioners Welfare stated that the additional pension for old pensioners of the age of 80 years and above has been allowed as per the recommendations of VI CPC.
Recommendations on increasing additional pension
However the commission said that it felt that the same should be allowed from 75 years onwards. Since the Ministry of Defence has not supported this proposal, The Commission was changed its view that the existing rates of additional pension and additional family pension are appropriate.
NCJCM should act upon this demand of veterans and necessary pressure to be given to the government by them to get this done for our senior most citizens

The additional pension with advancing age came into force based on the recommendations of the VI CPC.
The rates as applicable for the additional pension are as under:
· 80 years to <85 years: 20% of basic pension
· 85 years to <90 years: 30% of basic pension
· 90 years to <95 years: 40% of basic pension
· 95 years to <100 years: 50% of basic pension
· 100 years and more: 100% of basic pension
7th CPC Recommendation on Enhancing Fixed Medical Allowance for pre 2016 Pensioners
Demands have been received to increase the rate of this allowance to ₹2,000 pm. But the 7th Pay commission recommended the following…[ Continue Reading...]