Plights of Doctors in Government service and NPA
Dr. BALMUKUND AGRAWAL has explained here the Plights of Doctors in Government service and NPA
India has declined in 2016-17 in Material Well-being (41st), Health (43rd) sub-indices & Quality of Life (43rd) as compared to other countries. India has the lowest income per capita of all countries.
On one hand, the Govt considers the services of good and qualified doctors more important than those of others for the health of people by raising retirement age of doctors to 65 years as against 60 years for others. On the other hand, the Govt has been reducing NPA on the Basic pay.
Previously, in Govt jobs to the doctors through UPSC, NPA was given as 50% of Basic Pay and DA was given on basic pay + NPA, both inclusive. NPA is an incentive, as a privilege to doctors for extraordinary load of work 24 x 7, for health care of the patients and the people. NPA has been considered as part of basic pay. Gradually, NPA has been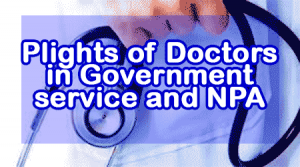 reduced and was even withdrawn for calculation during revision of Pension of retired medical officers thus markedly reducing their due pension. Govt is reducing NPA of doctors whereas salaries & perquisites in field of Politics and bureaucracy are being increased out of proportion. The Govt is facing crunch of doctors in Govt sector because previously granted incentives to them are being reduced and even withdrawn, thus adversely affecting their dedication and devotion to the people.
The doctors have to look for their interests also along with providing round the clock services for the health of people. The doctors must unite. Handsome NPA must be given to the doctors, minimum 50% of the Basic Pay, and that be added to the basic pay as before for other benefits. NPA should be 'Tax-free' without any kind of capping. The salary of re-appointed doctors should be not less than the last pay drawn with routine benefits. Basic Pay/Pension of Govt doctors be fixed by multiplying (Basic pay + NPA) with the factor of 2.57.