Toyota Car CSD Rates – Toyota Etios, Innova CSD Price List
Toyota Car CSD Price list with effect from September 2017 has been published in CSD Official Website. The Canteen Stores Department has released the revised list of CSD rates for all the Toyota Etios, Innova available in CSD after the GST is come into effect,. The Price of the Cars should be checked with the respective Dealers for buying selected Cars. These Four-Wheelers CSD Price list revised after the implementation of GST.
These rates will vary by Rs. 10,000/- (approximately) at various places across the country due to transportation charges, transit insurance charges etc. incurred by Car Companies.
The CSD Price List for Toyota Etios, Innova Car are given below-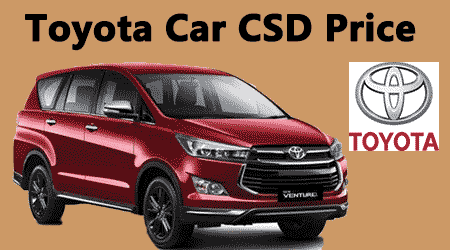 Toyota Car CSD Price List : Toyota Etios, Innova
[php snippet=203]
The Toyota Car CSD prices are prior to increase in Cess as notified by GST Council on 09 September 2017.