Tamil Nadu Government Approved 7th CPC Recommendation to its Employees
The Tamil Nadu Government Today Approved the implementation of 7th CPC Recommendation to TN Government Employees. This decision was taken in the cabinet Meeting held today. The cabinet meeting was chaired by Chief Minister Edappadi K Palanisamy.
On implementation of 7th CPC Recommendation in Tamil Nadu , The Pay of State Government Employees and Teachers will be increased by 20%. On account of revision of Pay, government would incur an additional expense of Rs14,719 crore annually.
 7th CPC Pay revision Calculation to TN Employees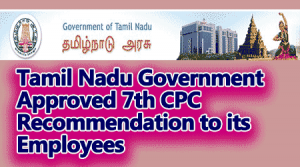 The new wage structure was arrived at using the 2.57 multiplication factor followed by the central government, the Chief Minister of tamil Nadu said.
The existing Minimum wage was Rs.6100 and maximum wage was Rs77,000.
After the Pay revision the maximum Basic pay will be Rs.2.25 Lakh and Minimum basic Pay is Rs.15700
Further, the 2.57 multiplication factor had been used to revise pension/family pension, which will be Rs7,850.
Maximum pension would be Rs1,12,500 and family pension would be Rs 67,500,
The decision would benefit seven lakh pensioners
Gratuity Ceiling Increased
Retirement Gratuity Ceiling has also been increased from Rs10 lakh to Rs20 lakh.
Wage revision benefits were also being extended to Noon meal scheme workers, Anganwadi staff and village panchayat officers, the chief minister said. He also announced a 30% hike for those employees receiving consolidated pay.
Nearly 12 lakh Tamil Nadu State Govt Employees will be benefited by this 7th CPC Pay Revision