10 Days CL granted to OFB Industrial Employees
MoD vide its ID No. 01(02)/2018/D(Civ-II) dated 23.10.2018 granted 10 Days CL to Defence Civilians and Industrial employees those who are entitled 16 Holidays in a year
GOVERNMENT OF INDIA
MINISTRY OF DEFENCE
OFFICE OF THE PRINCIPAL CONTROLLER OF ACCOUNTS (FYS)
10-A, S.K. BOSE ROAD, KOLKATA: 700001
PAY TECH SECTION
No. Pay/Tech-II/1058
Date :- 07/03/2019
To
All Controllers of Finance & Accounts (Fys.).
Subject : Grant of 10 Days CL to Industrial Employees – reg.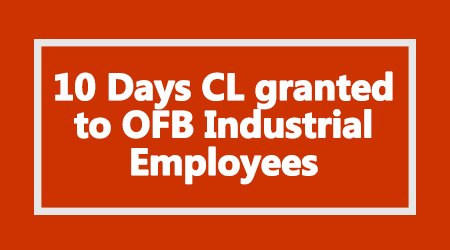 A copy of MoD ID No. 01(02)/2018/D(Civ-II) dated 23.10.2018 regarding extension of the provision of 10 days Casual Leave in terms of Para 9 of the Appendix-III of the CCS(Leave) Rules,1972 to the Industrial employees circulated vide OFB No. 265/Per/Policy dated 30.10.2018 is forwarded herewith for your information and necessary action, please.
Enclo: As above.
Sd/-
(Dr. D L Meena)
Deputy Controller of Accounts (Fys.)