Conditions to Extend the Probation Period
If the Appointing Authority thinks it fit, they may extend the period of probation of a Government servant by a specified period but the total period of probation should not exceed double the normal period
EXTENSION OF PROBATION PERIOD
15.If during the period of probation, a probationer has not undergone the requisite training course or passed the requisite departmental examinations prescribed (proficiency in Hindi, etc.), if any, the period of probation may be extended by such period or periods as may be necessary, subject to the condition that the total period of probation does not exceed double the prescribed period oi probation.
16.If the Appointing Authority thinks it fit, they may extend the period of probation of a Government servant by a specified period but the total period of probation should not exceed double the normal period. In such cases, periodic reviews should be done and extension should not be done for a long period at a time.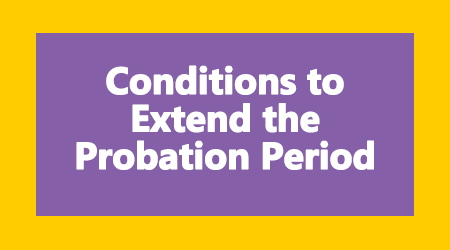 17.Where a probationer who has completed the period of probation to the satisfaction of the Central Government is required to be confirmed, he shall be confirmed in the Service/ Post at the end of his period Of probation, having completed the probation satisfactorily.
18.Some employees are not a to complete the probation on account of availing leave for long duration during probation period. In such cases if an employee doc not complete 75% of the total duration prescribed for probation on account or availing any kind of leave as permissible to a probationer under the Rules, his/ her probation period may be extended by the length of the leave availed, but not exceeding double the prescribed period oi probation.
Click to Read : Leave Rules to a Person on Probation