According to the Labour Bureau press release, All India Consumer Price Index Number (AICPIN) for the Month of February 2020 decreased by 2 Points and stood at 328
No. 5/1/2020-CPI
GOVERNMENT OF INDIA
MIMSTRY OF LABOUR & EMPLOYMENT
LÄBOUR BUREAU
'CLEREMONT', SHIMLA-171004
DATED: 31st March 2020
Press Release
Consumer Price Index for Industrial Workers (CPI-IW) — February, 2020
The All-India CPI IW for February, 2020 decreased by two points and stood at 328 (three hundred and twenty eight). On 1-month percentage change, it went down by (-) 0.61 per cent between January and February, 2020 whereas no change was observed between corresponding months of previous year.
The maximum downward pressure to the change in current index came from Food group contributing (-) 2.67 percentage points to the total change. At item level, Arhar Dal, Eggs-Hen- Fish Fresh, Poultry Chicken. Onion, Brinjal, Cabbage, Carrot, Cauliflower, Cucumber, French Bean, Gourd, palak, Peas, Potato. Radish, Tomato, Petrol, Toilet Soap, etc. are responsible for the decrease in index. However, this decrease was checked by Rice, Wheat Alta, Groundnut Oil, Goat Meat, Milk-Buffallo, Cooking Gas, etc., putting upward pressure on the index.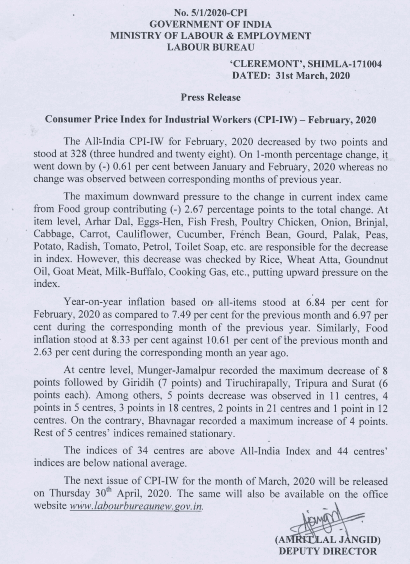 The next issue of All India CPI-IW (AICPIN) for the month of March, 2020 will be released on Thursday 30th April, 2020.