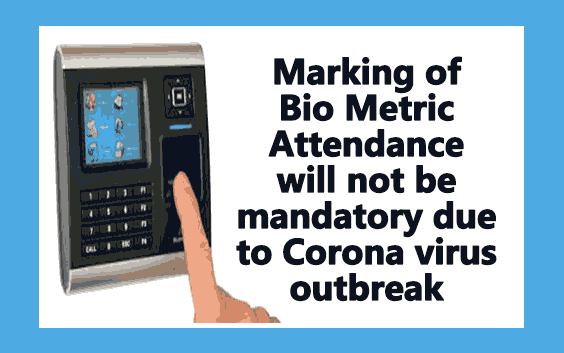 In view of the 2019 nCoV (Coronavirus) outbreak, it has been decided, that as a precautionary measure, marking of bio-metric attendance in Aadhar Based Bio metric Attendance System (AEBAS) will not be mandatory from 09th March 2020
No. 67/3/2020-Admn.1
Government of India
Ministry of New & Renewable Energy
CGO Complex, Block No.14,
Lodhi Road, New Delhi – 003.
Dated the 05th March, 2020
CIRCULAR
In view of the 2019 nCoV (Coronavirus) outbreak, it has been decided, that as a precautionary measure, marking of bio-metric attendance in Aadhar Based Biometric Attendance System (AEBAS) will not be mandatory. The attendance of the employees from 09th March, 2020 (Monday) will be marked as per the details given below:
i.All non-gazetted and outsourced staff will mark their attendance in the Attendance Register kept in Admin.-I Division.
ii.All gazetted officers will marks their attendance in Attendance Register kept with Personal Staff of their respective Joint Secretaries.
iii.All officers whose Group Heads are reporting directly to Secretary will mark their attendance in Attendance Register kept in the office of JS(Admn.).
iv. Sr. PPS to Secretary will maintain the register for all Staff posted in Secretary's office.
All officers are requested to clearly indicate the in-time and out-time while marking their attendance. This system of marking attendance will continue till 31 st March, 2020 or until further Orders.
Further, officers/employees are at liberty to continue marking their attendance in AEBAS, if it is convenient to them.
This issues with the approval of JS(Admn.).
(Arvind Pokhriyal)
Under Secretary to the Govt. of India