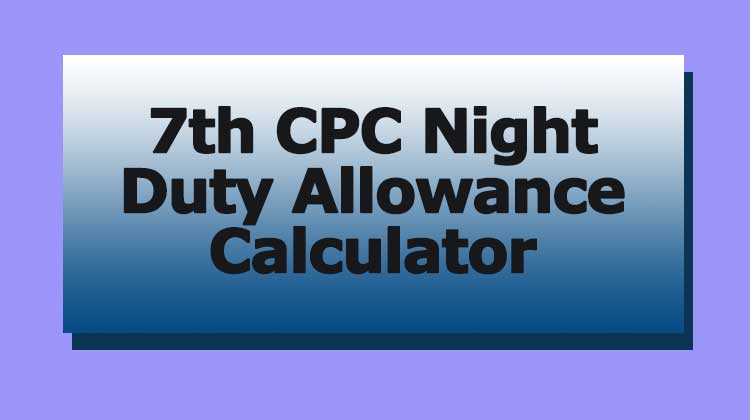 Central Government has issued order for payment of Nigh duty Allowance in 7th CPC Rates to Govt servants. Hence Gservants team has designed 7th CPC Night Duty Allowance Calculator to calculate the NDA in 7th Pay commission pay scale.
As per the Order issued by DoPT on 13.7.2020, Night Duty Allowance will be calculated in 7th CPC Pay with effect from 1.7.2017.
Night Duty will be defined as duty performed between 22:00 hours and 6:00 hours
A uniform weightage of 10 minutes shall be given for every hour of night duty performed.
Basic Pay Ceiling for Night Duty Allowance in 7th CPC
The ceiling of basic pay for entitlement of Night Duty Allowance shall be Rs. 43600/- per month.
The hourly rate of NDA equal to [(BP+DA)/200] will be paid and the basic pay and DA for the calculation of NDA rates shall be the basic pay and DA prevalent as per 7th CPC.
Calculator for Night Duty Allowance in 7th pay Commission
7th CPC Night Duty Allowance Calculator