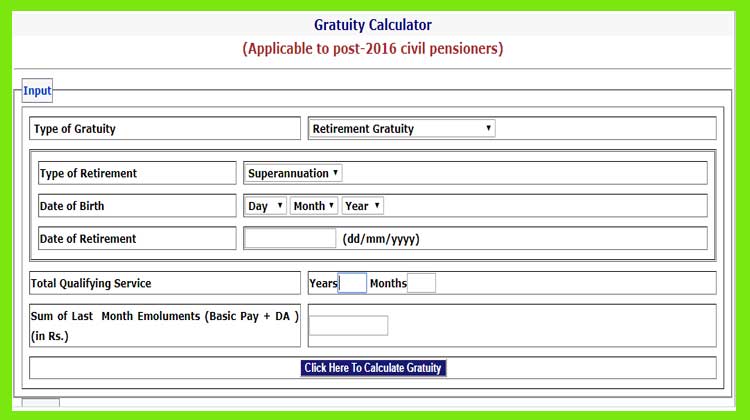 Calculate Gratuity in 7th Pay Commission Pay Scale
Pensioner portal has provided 7th CPC Gratuity Calculator for Central Government employees. It will be helpful for those retiring after the 7th CPC implementation to know the Gratuity entitlement in 7th Pay Commission Regime.
The official 7th CPC Gratuity Calculator is provided below to calculate Gratuity amount at the time retirement
Government Approved enhancement of Ceiling limit of Gratuity
Central Government has approved the 7th Pay Commission recommendation to Enhance the ceiling of gratuity from the existing ₹10 lakh to ₹20 lakh. The ceiling on gratuity may be raised by 25 percent whenever DA rises by 50 percent.
Service, Retirement and Death Gratuity
Retirement Gratuity
This is payable to the retiring Government servant. A minimum of 5 years' qualifying service and eligibility to receive service gratuity/pension is essential to get this one time lump sum benefit. Retirement gratuity is calculated @ 1/4th of a months Basic Pay plus Dearness Allowance drawn on the date of retirement for each completed six monthly period of qualifying service. There is no minimum limit for the amount of gratuity. The retirement gratuity payable for qualifying service of 33 years or more is 16 times the Basic Pay plus DA, subject to a maximum of Rs. 20 lakhs.
Death Gratuity
This is a one-time lump sum benefit payable to the nominee or family member of a Government servant dying in harness. There is no stipulation in regard to any minimum length of service rendered by the deceased employee. Entitlement of death gratuity is regulated as under:
Qualifying Service Rate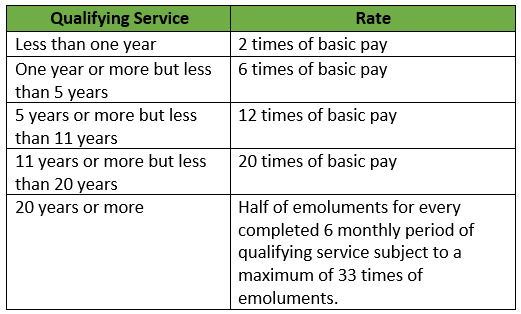 Maximum amount of Death Gratuity admissible is Rs. 20 lakhs w.e.f. 1.1.2016
Service Gratuity
A retiring Government servant will be entitled to receive service gratuity (and not pension) if total qualifying service is less than 10 years. Admissible amount is half months basic pay last drawn plus DA for each completed 6 monthly period of qualifying service. This one time lump sum payment is distinct from retirement gratuity and is paid over and above the retirement gratuity.
Click here to go to Official 7th CPC Gratuity Calculator