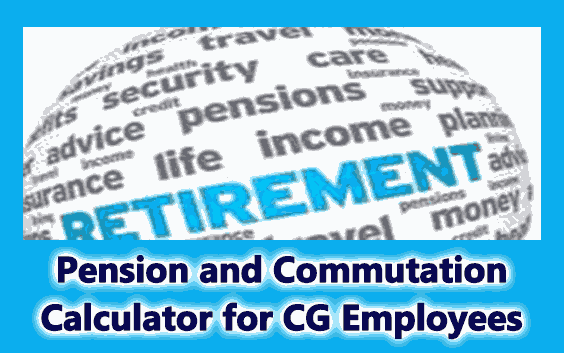 Pension and Commutation Calculator 2022
Central Government Employees who are at the verge of Retiring from service in the year 2022 may know the Pension and Commutation Amount at the time of their superannuation through this calculator
Post 2016 Pension and Commutation will be calculated as per the 7th CPC revised Pay. Central Government Employees those who are retiring from service from 1.1.2016 are called Post 2016 Pensioners.
Central Government Employees who are at the verge of Retiring from service in the year 2022 may know the Pension and Commutation Amount at the time of their superannuation. This 7th Pay Commission Commutation calculator will help you to calculate Pension Commutation amount in 2022. So that you can plan your Retirement Life.
Through this Calculator you will be able to know the amount of Pension and Commutation to be paid to you at the time of superannuation or Voluntary Retirement (Any Government servant can apply for voluntary retirement only after the completion of 20 years of service).
Pension & Commutation Calculator
Type of Retirement
Date of Birth
Date of appointment
Date of Retirement
Sum of last 10 Months Emoluents
(Basic Pay + NPA)
Last Month Pay Drawn
(Basic Pay + NPA)
Percentage of Commutation
(max 40%)
Check with official calculator
Latest Pensioner News
A Web Responsive Pensioners information service has been developed to provide single point web solution for pensioners to obtain comprehensive information relating to status of the pensions and pension payments.
Web Responsive Pensioners information service provides all the information about Pensioner like Pensioner Profile,Digital Record of Pension & Revision Orders,Download Facility of Pension/Revision Orders Sent To Banks,Monthly Details of Pension Payments and SMS facility for tracking status of pension process at CPAO.