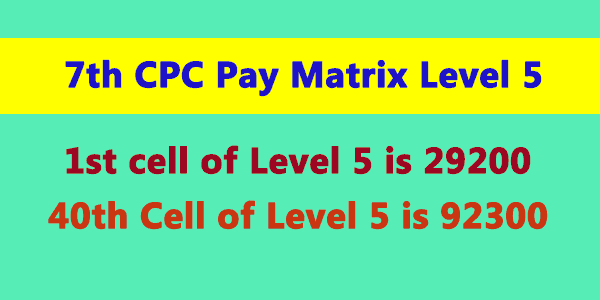 Level 5 in 7th CPC Pay Matrix is prescribed for Grade Pay Rs.2800 in Pay Band I in Sixth pay Commission Pay Scale.
In Sixth CPC, the entry pay (Pay in the pay band ) for Grade Pay 2800 is Rs.8560 . On initial appointment the Pay will be fixed as follows
Fixation Pay = 8560+2800 = 11360
In seventh Pay Commission Level 5 is assigned for Grade pay 2800.
The 1st cell of Level 5 is 29200 and there are 40 Cells in that Level. 40th Cell of Level 5 is 92300.
On initial appointment to Level 5 post, Rs.29200 will be fixed as basic pay.
Since 40 cells has been provided for the Levels 5, stagnation in this level is eliminated
The Cells of level 5 in 7th CPC pay matrix is given below
Level 5 in 7th CPC Pay Matrix
Grade pay 2800 in 6th CPC
S.No
(Represents Years)
Basic Pay
(Cells in Level 5)
1
29200
2
30100
3
31000
4
31900
5
32900
6
33900
7
34900
8
35900
9
37000
10
38100
11
39200
12
40400
13
41600
14
42800
15
44100
16
45400
17
46800
18
48200
19
49600
20
51100
21
52600
22
54200
23
55800
24
57500
25
59200
26
61000
27
62800
28
64700
29
66600
30
68600
31
70700
32
72800
33
75000
34
77300
35
79600
36
82000
37
84500
38
87000
39
89600
40
92300