Expect same hike in Expected DA from July 2017
Amidst our focus shifted to expected DA from July 2017, the News of Central Govt approval for 2% DA hike is not received with much enthusiasm by CG Staffs.
As the Central Government staff are not satisfied with this hike for various reasons, the DA from July 2017 will be expected much higher than this.
As per the Central Federation opined, the method of DA Calculation to be reviewed as it is some extent not co related with the Consumer Price Index properly. The percentage of DA hike approved so far has somehow in line with this view point of Federations.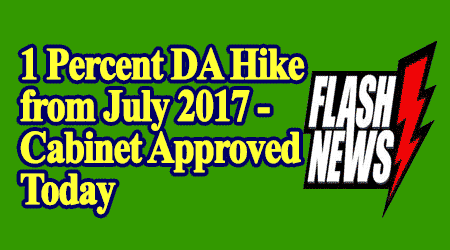 Now It is expected that Dearness Allowance from July 2017 will be from 2% to 3%, as the AICPIN Index is in down trend from August 2016. The AICPIN for July 2016 was 280. After that the CPI numbers are decreasing every month. In fact, the 280 is first and last Highest CPI Point in the last 7 Months AICPIN Index from July 2016. So Expecting higher DA hike for July 2017 may however lead to wrong prediction.
The 12 Months AICPIN required to calculate the DA from July 2017 are July 2016 to June 2017. In the last 7th Months from July 2016,  AICPIN has started from 280 and now stands at 274.
If the CPI number increases 1 point consistently for the remaining five months, again the DA hike will be 2% from July 2017. If the increase is two points in every month from February 2017 to June 2017, then the Expected DA from July 2017 may increase from 4% to 7% with 3% DA Hike