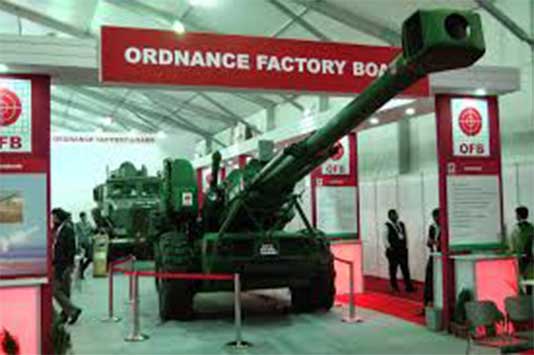 Ordnance Factory Board-OFB (Ministry of Defence) published an advertisement for Induction of Trade Apprentice for Training under The Apprentice Act'1961
INDUCTION OF TRADE APPRENTICES FOR TRAINING UNDER THE APPRENTICES ACT 1961 AND DISABILITIES ACT 1995 IN ORDNANCE & ORDNANCE EQUIPMENT FACTORIES
Ordnance Factory Board-OFB (Ministry of Defence) published an advertisement for Induction of Trade Apprentice for Training under The Apprentice Act'1961 and Disabilities Act'1995 in Ordnance & Ordnance equipment Factories. Eligible candidates can apply only through ON-LINE in its Website 'www.ofb.gov.in'
On-line' Application is invited from Indian Citizen for TRADE APPRENTICESHIP training in Ordnance & Ordnance Equipment Factories for the year 2011-12.Particulars of training and induction process are given below:-
AGE:
1. Between 14 to 22 years – As on 01-10-2011
2. Relaxation in Upper age limit is permitted by –
(a) For SC/ST Candidates – 05 (Five) years.
(b) For OBC candidates – 03 (Three) years
(c) For Physically Handicapped (PH) / Physically Challenged (PC) Candidates- 10(Ten) years.
(d) For ITI Candidates – upper age limit will be relaxed by the period of training already undergone by them in any Institute recognized by NCVT or SCVT, duly covered through Gazette Notification of Ministry of Labour & Employment.
ESSENTIAL QUALIFICATION:
1. For non-ITI applicants: – Passed Madhyamik (Class – 10th Standard) or Equivalent Examination with 40% marks in aggregate and 45% marks in each of Mathematics & Science (Physics and Chemistry).
2. For ITI applicants: – Should be passed out from the ITI, duly recognized by NCVT or SCVT and covered through Gazette Notification of Ministry of Labour & Employment, with minimum two years duration.
FACTORY-WISE TRADE- WISE VACANCY:
(One Candidate is Eligible to apply against one Factory & one Trade only)
Application is to be addressed to the Senior General Manager/ General Manager of any of the factories, where from the applicant intend for the Trade Apprenticeship training and to appear for the competitive induction Examination.
HOW TO APPLY:
Please keep the following data / details ready before you start filling up the form ONLINE:
Candidate must apply online through Ordnance Factory Board (OFB) website http://ofb.gov.in . After submission of the on-line application , the applicant should take a print of the registration slip, as submitted through on-line, affix recent colour passport size photograph, sign and put left thumb impression in the specified place and send to the concerned Ordnance Factory, where he/she intends to apply. The hard copy of the application must be supported with the following documents .
(a).Age proof certificate.
(b).Qualification Certificates(Madhyamik or Equivalant Examination/ITI Examination)(All copy of Certificate must be attested by any central/state Govt. Gazetted officier/Principal/Headmaster/Mistress of the college/ School .).
(c).SC/ST/OBC/PH (PC) Certificate(issued by competent authority) .
(d).Indian postal order (where applicable).
(e) . IPO of Rs. 30/-, in favor of the Sr.GM/GM of the Ord. Fy. where the candidate has applied for Grade and CGPA to be converted into percentage as per guidelines given on your marksheet.
Valid e-mail id with validity for minimum period of six months,kindly keep the record of the same for your future reference.
Apprenticeship training in ordnance factory for the year 2012-13– latest circular