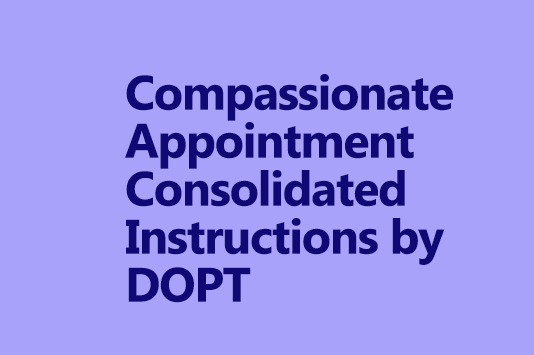 After the Scheme for Compassionate Appointment under Central Government came into force many instructions and clarifications were issued. Now DoPT Consolidated Instructions and rules on Compassionate Ground Appointment in central Government
F.No.14014/02/2012–Estt. (D)
Government of India
Ministry of Personnel, Public Grievances and Pensions
(Department of Personnel & Training)
North Block,
New Delhi
Dated the 16th January, 2013
OFFICE MEMORANDUM
Subject:- Consolidated Instructions on compassionate appointment — regarding.
The undersigned is directed to invite attention to this Department's O.M. No.14014/6/94-Estt(D) dated 09.10.1998 vide which Scheme for "Compassionate Appointment under Central Government" was issued. Subsequently a number of instructions on compassionate appointments under the Central Government have been issued. The content of important/relevant O.Ms and orders on the subject have been further consolidated for the facility of reference and guidance and are being made available on this Department's website www.persmin.nic.in in the dynamic form
(OMs & Orders>Establishment>(A) Administration (III) Concessions in appointment (a) compassionate appointment).
This may be brought to the notice of all concerned for information, guidance and necessary action.
2. Hindi version will follow.
( Virendar Singh)
Under Secretary to the Government of India
Read the Consolidated Instructions