Yog Chikitsa Kendras at CGHS Wellness Centres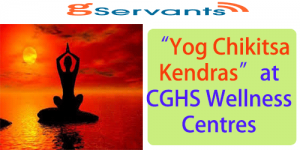 GOVERNMENT OF INDIA
MINISTRY OF HEALTH AND FAMILY WELFARE
RAJYA SABHA
QUESTION NO 3439
ANSWERED ON 23.12.2014
Yog Chikitsa Kendras at CGHS WCs
3439. SHRIMATI VIPLOVE THAKUR:
Will the Minister of HEALTH AND FAMILY WELFARE be pleased to state:
(a) whether CGHS is having Yog Chikitsa Kendras at CGHS Wellness Centres (WCs) as a preventive measure for its beneficiaries;
(b) if so, at how many permanent centres in India including Delhi this facility is being provided;
(c) the sanctioned strength of Yoga instructors on regular basis in CGHS and
when last revision of sanctioned post took place;
(d) how many of them have been recruited in the last three years and how many of them have retired during the period; and
(e) whether there is any plan with Government to strengthen the Science of Yoga, if so, the actions which have been taken in this regard?
ANSWER
THE MINISTER OF HEALTH AND FAMILY WELFARE
(SHRI JAGAT PRAKASH NADDA)
(a) & (b): Some of the Wellness Centres in CGHS Delhi are having Yog Chikitsa Kendras.
In CGHS Delhi there are 4 wellness centres where the Yog Chikitsa Kendras are located.
Besides, in 12 CGHS Wellness Centres, Yoga Units are running under the aegis of Morarji Desai National Insitute of Yoga which is a charitable organization. CGHS has provided space to run the Yog Kendras for the preventive health care through Yoga.
(c): The sanctioned Strength of Yoga instructors is four. The last revision of sanctioned posts took place on 10/11/1983.
(d): No recruitment has taken place in the last 3 years. 1 Yoga Instructor has retired during this period in the year 2012.
(e): Central Council for Research in Yoga and Naturopathy (CCRYN) is an autonomous organization under Ministry of AYUSH. The Council has taken following measures to encourage and promote science of Yoga and Naturopathy in the country:-
1. Clinical Research- EMR and Collaborative:
The Council has supported research studies through renowned medical institutions and hospitals of Yoga & Naturopathy to establish the efficacy of various Yogic and Naturopathic treatment modalities in prevention and management of various disease conditions.
2. Literary Research / Translation / Publication: The Council has published several ancient and classical texts in Yoga & Naturopathy. Several IEC materials have also been published for spreading the science of Yoga among the public.
Source: Rajyasabha.nic.in