Indian Railways' Employee Sakshi Malik Ends India's Long Anxious Wait For Olympic Medal At Rio Olympics 2016
Promotion To Gazetted Officer Grade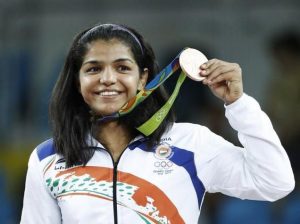 Sakshi Malik wins the Olympic Bronze in 58 kg Category of Women's Freestyle Wrestling
She Also Creates History by Becoming The First 'Women Wrestler' From India to Bag an Olympic Medal.
Indian Railways Has Again Made The Country Proud Through Its Commitment of Promoting Sports
All The Three Railway Ministers congratulate Sakshi Malik on Her Achievement
Sakshi Malik To Get Promised Rs. 50 Lakh Cash Award And Promotion To Gazetted Officer's Grade
Today's Success in The Olympics Is The Recognition of Indian Railways Leading Role in Successfully Raising India's Women Wrestler Team
Almost One Third of Indian Contingents at Rio comprises of Railway Sportspersons, Which is by Far The Highest in Any Olympics
Indian Railways' employee Sakshi Malik has won the first Olympic medal at Rio Olympics 2016 for the country. Minister of Railways Shri Suresh Prabhakar Prabhu, Minister of State (Independent charge) for Communications & Minister of State for Railways Shri Manoj Sinha and Minister of State for Railways Shri Rajan Gohain have congratulated her for making the country proud by her achievement. Entire Indian Railways fraternity is also feeling proud today, as Indian Railways has brought laurels for the nation.
Indian Railways' Employee Sakshi Malik brings India's first much awaited Olympic medal at Rio Olympics 2016
Sakshi Malik won the Olympic Bronze medal in 58 kg category of women's freestyle wrestling. Sakshi Malik also created history by becoming the first 'women wrestler' from India to bag an Olympic medal. Gritty women wrestler, Sakshi Malik ended India's anxious wait for a medal by clinching the bronze in the 58 kg category, pulling off a sensational 8-5 victory over Alsuluu Tynybekova of Kyrgyzstan in the play-off bout. Another Indian Railway Employee Vinesh Phogat, who was also a medal hopeful in the 48 kg category was forced to retire hurt earlier after a promising display. It will be worthwhile to point out that it was Indian Railways which took lead in raising the entire women wrestlers team of India for the first time and in a way provided a new career option and a sports to Indian women in the field of wrestling.
Sakshi Malik is presently working in the commercial department of the Delhi Division of Northern Railway. Indian Railways facilitated grooming of Sakshi Malik as an ace wrestler by providing all kinds of facilities, environment and incentives. The wrestling coach of Indian Railways Shri Kuldeep Malik worked hard to prepare the Railway women wrestlers for the mega event of the Olympics. The sports directorates of Indian Railways coordinated her training with the Ministry of Sports & Youth Affairs at all stages.
As per the announcement made earlier by the Railway Minister Shri Suresh Prabhakar Prabhu before the commencement of the Games, she will be awarded Rs. 50 lakh and will be promoted as a Gazetted officer and will be posted in the Zonal Railway of her choice.
Indian Railways' Employee Sakshi Malik won the Olympic Bronze medal in 58 kg category women's freestyle wrestling.
Indian Railways has rich tradition to provide all out support for promoting sports & sports persons. Indian Railways has always been on forefront of sporting activities in the country. Over the years, right from the inception, Indian Railways sports persons have represented India in the Olympics, the Asiad and other International meets with great success. Almost one third of Indian contingents at Rio comprises of Railway sportspersons, which is by far the highest in any Olympics and thus showing Railways' resolve to promote sports in the country. The sports persons nurtured by Indian Railways have proved their metal from time to time and brought laurels to the country.
pib