In Tamil Nadu, agitation Programme is being organised against the government decision of not including the Pongal Holiday in the list of Compulsory Holidays for the year 2017 for central government offices.
Pongal Holiday is not in the List of Compulsory Holidays
It is quite a surprise that some Political parties and Tamil Media are telling that Central Government has removed the Pongal holidays from the List of Compulsory Holidays for the year 2017.
Since 2009, there is no such order issued by DoPT (A Nodal Ministry for Central government employees) that includes Pongal festival in the List of Compulsory Holidays. The Orders for Central Government Holidays from the year 2009 are available in DOPT website
The Holiday for the Festivals which are celebrated in States shall be decided by the Central Government Employees Welfare Coordination Committee in the State Capitals, if necessary, in consultation with Coordination Committees at other places in the State from the list of restricted Holidays declared by central government. There are three such Holidays can be decided by State Coordination committees or Co Ordination committees in Departments for Central Governments offices functioning in States.
It is not clear that whether any Central Government Department in Tamil Nadu has decided not to announce Holiday for Pongal. If that is the case, it is not a correct decision. The Co Ordination Committee of the concerned Department has every right to avail the Pongal Holiday from restricted Holidays list.
In the list of Restricted Holidays, all the Regional Festivals like Pongal, Onam, Holi, Chat Puja, Ugadi are included. They are not included in Compulsory Holidays List according to the DoPT Orders available from 2008
The List of Compulsory Holidays and restricted Holidays shown below has been issued since 2009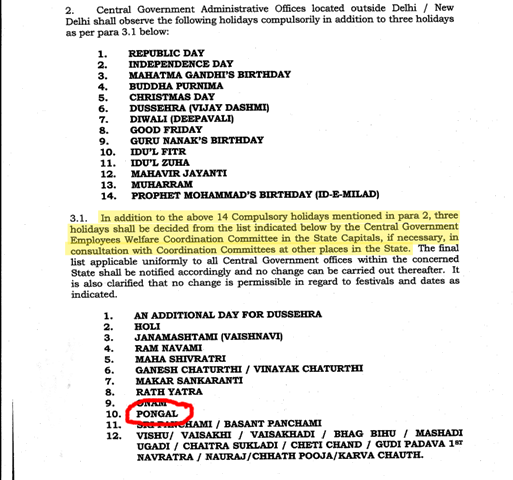 Click here to See List of Central Government Holidays 2009
Click here to See : Holidays for Central Government offices during year 2017