It is brought to the notice of all subscribers that PFRDA revised Investment Management Fee for NPS Subscribers (IMF) charged by Pension Funds
Investment Management Fee for NPS Subscribers
National Pension System Trust (NPS Trust)
Third Floor, Chatrapati Shivaji Bhawan,
B-14/A, Outab Institutional Area, New Delhi-110 016
Phone :+91-11-26514032
Notice to subscribers
It is brought to the notice of all subscribers under National Pension System that Pension Fund Regulatory and Development Authority has revised the existing Investment Management Fees (IMF) charged by Pension Funds.
The following slab-wise fee structure shall be applicable from 1st April, 2021 for the Pension Funds to whom fresh Certificate of Registration (CoR) have been issued by PFRDA on 30.03.2021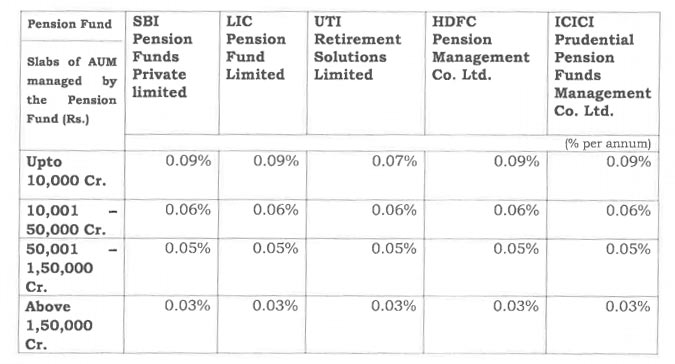 The Investment Management Fees (IMF) to be charged by the Pension Fund shall be on the aggregate Asset under Management (AUM) of the Pension Fund under all schemes managed by Pension Funds and to be calculated upto four decimal points and truncated thereof.
The Pension Fund shall continue to load their charges management fees) onto the net asset value on daily basis.
(Akhilesh Kumar)
General Manager
New Delhi
Date: 31/ 03/ 2021