All Central Government Offices may be allowed to open after 17th May 2020.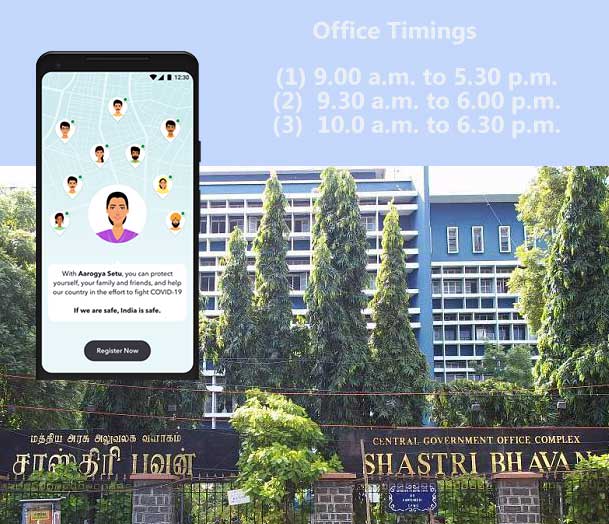 In a first phase, a country wide lockdown has been imposed from 23rd March 2020 to April 14th 2020 to contain the spread of COVID 19 Coronavirus.
It was further extended up to 3rd May 2020 in Second Phase as a preventive measure against COVID 19.
Since the graph of Positive cases was not reaching to the level of curve flattening – an indicator that shows there is no new positive cases – Lockdown 3 is now continuing up to 17.5.2020.
As it is said to be the exit plan, there will be no further lockdown in the country as a whole.
So Central Government offices and Establishment will be opened and it will function full time as per the DoPT Guidelines.
So the DoPT and Ministry of Health have issued guidelines and Instructions to be followed in Central Government Offices and Industrial Establishments.
Having Aarogya setu App is mandatory for Central government employees
One such instruction is Downloading Aarogya setu App is now made mandatory for Central government employees.
(i) All the officers, staff (including outsourced staff) working in Central Government should download 'https://www.mygov.in/aarogya-setu-app/Aarogya setu' App on their mobile phones, immediately.
(ii) Before starting for office, they must review their status on 'Aarogyasetu' and commute only when the app shows 'safe' or 'low risk' status.
(iii) The officers/staff are advised that in case the App shows a message that he/she has a 'moderate' or 'high risk' calculated on the basis of Bluetooth proximity ("recent contact with infected person"), he/she should not come to office and self isolate for 14 days or till the status becomes 'safe' or 'low risk'.
Functioning of Central Govt Office from 18th May 2020
DoPT has issued directions to Central Government department to ensure the Offices to function in line DoPT Guidelines dated 23rd April 2020
It is reiterated that guidelines for attendance for officers/staff at levels below Deputy Secretary be strictly followed. Heads of Departments (HoDs) may also direct their officers/staff to attend Office In staggered timings to further avoid crowding in offices/work Spaces. As suggested vide OM of even number dated 19th March, 2020. the staggered timings may be as follows
(a) 9.00 a.m. to 5.30 p.m.
(b) 9.30 a.m. to 6.00 p.m-
(c) 10 a.m. to 6.30 p.m.
Suitable Roster may, accordingly, be drawn up by the Heads of Department.
Do Central Staffs living in Red Zones need to come Office ?
All have to attend office even though it is Red Zone. But if they live in containment Zone (Hot Spot) they are not allowed to attend duty.