Pre 2016 Pension Arrears Calculator
The Pre 2016 Pension calculators are being posted in few website including gservants.com. But based on the result of theses calculators the Pre 2016 Pensioners can not claim to fix their Revised Pension .
Now the Department of Pension and Pensioners Welfare has now come forward with the Official calculator to fix the Pension for pre 2016 Pensioners in Two Options recommended by the Government.
Initially the 7th CPC has recommended Two Option for revising Pension in 7th Pay Commission. But the Department of Pension has rejected the 1st Option recommended by 7th CPC , citing the reason that it was feasible to implement. Then a Committee has been formed to examine the Pension Option- especially the 1st Option – and they recommended that by fixing Notional Pay for intervening Pay Commission from 4th CPC to Sixth CPC , the revised Pension can be calculated.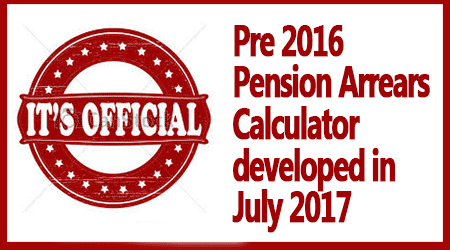 As per this revised formulation we have prepared a Pre 2016 Pension calculator with Arrears Details [Click here to See ] . It is being received overwhelming responses form our readers.
Now the Department of pension and Pensioners welfare has developed the Official pre 2016 Pension calculator and published in Pensioners Portal.
The Pre-2016 Pensioners can now able to calculate the Pension and family Pension in two option through this official 7th CPC Pension calculator. It there is any discrepancy in Pension Calculation done by the Pension paying Authority, the pre 2016 Pensioners can ask the concerned Departments to Check this Official Pre 2016 Pension calculator [Click to see]