10.2.45 The principal demands made before the Seventh CPC in respect of disability pensions as applicable for defence forces personnel were:
i. In the case of disability pension, an upward revision from the existing rate of 30 percent to 50 percent of last pay drawn, in cases of 100 percent disability.
ii. Enhancing the cover of Disability.
iii. Additional old age pension should be applicable for disability/ war injury pension.
---
READ :7th Pay Commission Recommendation Relating to Disability and War Injury Pension
---
iv. All cases of invalidment due to disability Neither Attributable Nor Aggravated (NANA) to service, be awarded Disability Pension. v. Enhancement in the rate of war injury pension where individual is retained in service. vi. Ex-gratia lump sum compensation to invalided out defence personnel. vii. Ex-gratia award for 100 percent disability be made equal to the stipend being paid to Cadets. viii. The need to empanel well established civil prosthetic centres so as to make facilities for good quality repairs and replacement of artificial limbs easily accessible. ix. Ex-gratia lump sum compensation
Enhancement of the Rate of Disability Pension
10.2.46 The Services have sought enhancement of the rate of disability pension for 100 percent disability from the existing level of 30 percent of the last drawn reckonable emoluments to 50 percent. For lower percentages of disability, the amount of disability element is sought to be pro-rated. Analysis and Recommendations
10.2.47 The regime of disability element for non-battle cases has moved from fixed slab rates to a percentage of reckonable emoluments. The rates of disability element for 100 percent disability as admissible over the years, is indicated in the table below: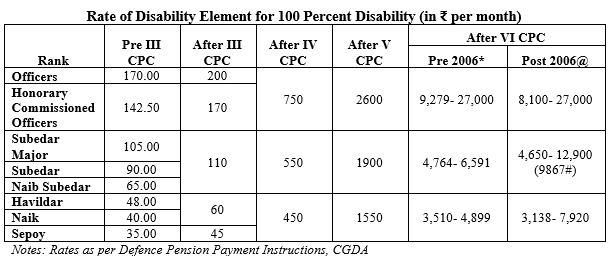 * The disability element shall not be less than 30 percent of minimum of fitment table for rank in revised pay structure issued for implementation of recommendation of VI CPC corresponding to pre revised scale held by armed forces personnel at time of retirement/discharge/ invalidment for 100 percent disability. @ It is as per VI CPC pay structure as accepted by government for armed forces personnel. # While ₹34,800 is top of the scale for PB 2, the highest stage that an MWO has reached in the IAF is ₹24,690.
10.2.48 The ratio of maximum to minimum disability pension for officers and ORs across various points in time is detailed below:

The feature that stands out when the historical evolution of the regime relating to disability pension is studied is the shift from slab based system to a percentage based disability pension regime consequent to the implementation of the VI CPC's recommendations. This move has been contrary to the tenets of equity insofar as treatment of disability element between Officers and JCOs/ORs is concerned borne out by the fact that the ratio of maximum to minimum quantum of compensation for disability across the ranks is now disproportionately high at 8.6. The Commission is therefore of the considered view that the regime implemented post VI CPC needs to be discontinued, and recommends a return to the slab based system. The slab rates for disability element for 100 percent disability would be as follows: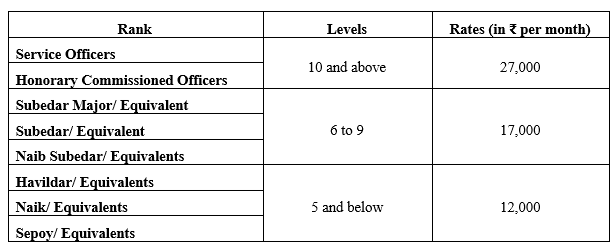 READ : 7th CPC recommendations Relating to Defence Family Pension