Criteria for Dependency for availing CGHS benefits explained in the following FAQ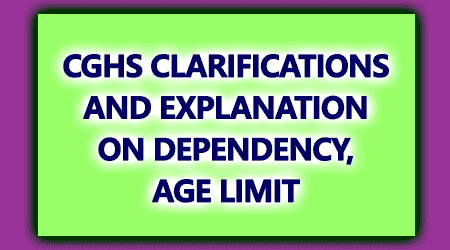 1. For CGHS cards , as dependant ,what is the meaning of the word "family"
The term 'family' means and includes:-"Husband or wife as the case may be and other dependant family members.Dependant Family Members: parents, sisters, widowed sisters, widowed daughters, minor brothers and minor sister, children and stepchildren wholly dependent upon the Government Servant and are normally residing with the Government Servant". Also now include dependent divorced / separated daughters and stepmother.The term dependency means that income from all sources including pensions and pension equivalent of DCRG benefit is less than Rs.3500/- plus amount of DA on Basic pension of Rs3500/- per month.
2. Is there any age limit for sons /daughters as dependant in CGHS Card?
Son is eligible till he starts earning or attains the age of 25 years or gets married whichever is earlier. However in case the son is suffering from any permanent disability of any kind (physical or mental) he is eligible for CGHS benefits even after 25yrs .Disability means blindness, low vision, leprosy-cured, hearing impairment, locomotor disability, mental retardation, mental illness. A disability certificate from Medical Board is required. Daughter is eligible till she starts earning, or gets married, whichever is earlier (irrespective of age)
3.My married daughter has dispute with her husband she is residing with me. I am a CGHS card holder. Could I include her name in CGHS Card?
No
4. My daughter is married but son-inlaw is unemployed. Can I have my daughter and son-in-law in my CGHS Card?
No
5.The Divorce case of my daughter No is pending in Court. Can I include her name in CGHS Card?
No
6. My son is divorced Can his divorced wife be dependant as she takes alimony from us ..[Click to read more Clarifications up to Number -16 ]
Further CGHS Issued Clarification regarding Age limit for dependent children of Government servants and pensioners for availing medical facilities under CGHS and Central Services (MA) Rules, 1944 , in which it has been clarified that a son who is dependent on his father / mother can avail CGHS facilities upto the time he attains the age of 25 years or till he starts earning, whichever is earlier. The age limit of 25 years would not be applicable in respect of the son of a CGHS beneficiary, in case he was suffering from any permanent disability of any kind (physical or mental)....[ CLICK TO READ MORE ABOUT THIS CLARIFICATION]  
In view of the dismissal of the Writ Petition, it has been decided to re-fix the age limit for dependents, as indicated below:
(i) Son Till he starts earning or attains the age of 25 years, whichever is earlier [ CLICK TO READ MORE ABOUT THIS CLARIFICATION]  
CGHS CLARIFICATIONS AND EXPLANATION ON DEPENDENCY,AGE LIMIT
Click Here to Read : CRITERIA FOR DEPENDENCY
Click Here to Read : AGE LIMIT CLARIFICATION
Click Here to Read  : OFFICE MEMORANDUM ON AGE LIMIT