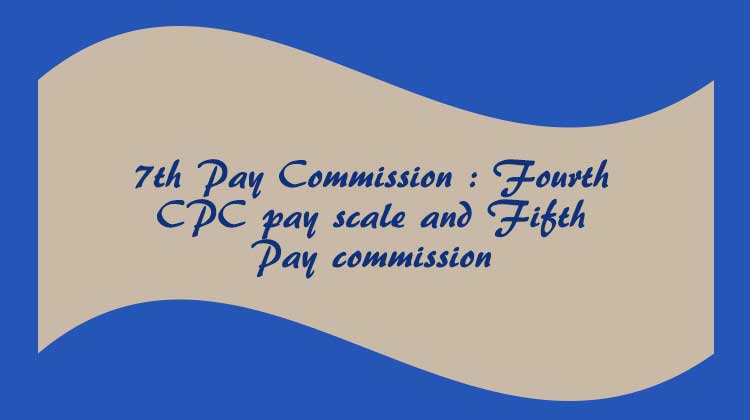 It will be very use full to know all the pay commissions recommendations before getting into VII pay commission
FOURTH PAY COMMISSION
The Fourth Pay Commission was constituted in June 1983 and its Chairman was Shri. P N Singhal. But the report of 4th CPC was submitted to government in three phases within the period of four years. There from it was started maintaining huge gap between lowest grade and highest grade as for as pay is concerned.
There was a huge difference in basic pay between lowest grade and highest grade in IV pay commission pay scales. The basic pay of lowest grade was Rs.750, where as highest grade was Rs.9000. The pay of top most grade was 12 times higher than the pay of Group D employee. The Fourth CPC had recommended the government to constitute permanent machinery to undertake periodical review of pay and allowances of Central Government employees, but which got never implemented.
FIFTH PAY COMMISSION
The Fifth Pay Commission was set up in 1994. The chairman of fifth pay commission was Justice S. Ratnavel Pandian. The commission gave its report in January 1997. Government accepted most of the recommendations and issued appropriate order in July 1997. The recommendations were implemented with effect from 1-1-1996. It recommended to reduce the number of pay scale from 51 to 34. It is noted that about 93% of the employees were in Group 3 and Group 4
The minimum Starting Pay has been revised from Rs. 750/ to Rs. 2550/-. In this, the pay of 5th CPC scale were about 3 times higher than the pay of IV CPC pay Scale. The pay scale starts from Rs.2550 and ends up with Rs.30000. The hike of 12 times between low level and top level was also maintained in V pay commission.
The pay scale of IV pay commission and V pay commission are given below. we need all this reference for working out to reach a formula to infer what would be the increase in VII pay commission.
IV CPC PAY SCALES   VS V CPC PAY SCALES
| | | | | |
| --- | --- | --- | --- | --- |
| Scale | FOURTH PAY COMMISSION PAY SCALES | | FIFTH PAY COMMISSION PAY SCALES | INCREASE X TIMES |
| 1 | 750-12-870-14-940 | S-1 | 2550-55-2660-60-3200 | 3.4 |
| 2 | 775-12-871-14-1025 | S-2 | 2610-60-3150-65-3540 | 3.3 |
| 3 | 800-15-1010-20-1150 | S-3 | 2650-65-3300-70-4000 | 3.3 |
| 4 | 825-15-900-20-1200 | S-4 | 2750-70-3800-75-4400 | 3.3 |
| 5 | 950-20-1150-25-1400 950-20-1150-25-15001150-25-1500 | S-5 | 3050-75-3950-80-4590 | 3.2 |
| 6 | 975-25-1150-30-1540 975-25-1150-30-1660 | S-6 | 3200-85-4900 | 3.3 |
| 7 | 1200-30-1440-30-18001200-30-1560-40-2040 1320-30-1560-40-2040 | S-7 | 4000-100-6000 | 3.3 |
| 8 | 1350-30-1440-40-1800-50-2200 1400-40-1800-50-2300 | S-8 | 4500-125-7000 | 3.3 |
| 9 | 1400-40-1600-50-2300-60-2600 1600-50-2300-60-2660 | S-9 | 5000-150-8000 | 3.5 |
| 10 | 1640-60-2600-75-2900 | S-10 | 5500-175-9000 | 3.35 |
| 11 | 2000-60-2120 | S-11 | 6500-200-6900 | 3.25 |
| 12 | 2000-60-2300-75-3200 2000-60-2300-75-3200-3500 | S-12 | 6500-200-10500 | 3.25 |
| 13 | 2375-75-3200-100-3500 2375-75-3200-100-3500-125-3750 | S-13 | 7450-225-11500 | 3.13 |
| 14 | 2500-4000 (proposed new pre-revised scale) | S-14 | 7500-250-12000 | 3 |
| 15 | 2200-75-2800-100-4000 2300-100-2800 | S-15 | 8000-275-13500 | 3.5 |
| 16 | 2630/- FIXED | S-16 | 9000/- FIXED | 3.42 |
| 17 | 2630-75-2780 | S-17 | 9000-275-9550 | 3.42 |
| 18 | 3150-100-3350 | S-18 | 10325-325-10975 | 3.2 |
| 19 | 3000-125-3625 3000-100-3500-125-4500 3000-100-3500-125-5000 | S-19 | 10000-325-15200 | 3.3 |
| 20 | 3200-100-3700-125-4700 | S-20 | 10650-325-15850 | 3.32 |
| 21 | 3700-150-4450 3700-125-4700-150-5000 | S-21 | 12000-375-16500 | 3.24 |
| 22 | 3950-125-4700-150-5000 | S-22 | 12750-375-16500 | 3.22 |
| 23 | 3700-125-4950-150-5700 | S-23 | 12000-375-18000 | 3.24 |
| 24 | 4100-125-4850-150-5300 4500-150-5700 | S-24 | 14300-400-18300 | 3.4 |
| 25 | 4800-150-5700 | S-25 | 15100-400-18300 | 3.1 |
| 26 | 5100-150-5700 5100-150-6150 5100-150-5700-200-6300 | S-26 | 16400-450-20000 | 3.2 |
| 27 | 5100-150-6300-200-6700 | S-27 | 16400-450-20900 | 3.2 |
| 28 | 4500-150-5700-200-7300 | S-28 | 14300-450-22400 | 3.1 |
| 29 | 5900-200-6700 5900-200-7300 | S-29 | 18400-500-22400 | 3.1 |
| 30 | 7300-100-7600 | S-30 | 22400-525-24500 | 3 |
| 31 | 7300-200-7500-250-8000 | S-31 | 22400-600-26000 | 3 |
| 32 | 7600/- FIXED7600-100-8000 | S-32 | 24050-650-26000 | 3.1 |
| 33 | 8000/- FIXED | S-33 | 26000/- FIXED | 3.2 |
| 34 | 9000/- FIXED | S-34 | 30000/- FIXED | 3.3 |
Must Read : Seventh Pay Commission Projected Pay Scale
Download Full Report: 7th Pay Commission Projected Pay Scale pdf file