The central Government Employees those who are on the verge of Retirement are having many doubts about How to Join CGHS after Retirement. Many queries have been raised by our viewers about registering with CGHS and availing the CGHS facility after retirement. Hence the details of joining CGHS and entitlement for availing treatments and its benefits, list of empanelled Hospitals are compiled and given under for viewer's reference.
All Central Government pensioners/family pensioners who were eligible for taking treatment under the Central Government Health Scheme (CGHS) while in service are eligible for availing CGHS facilities after retirement, irrespective of whether they were or were not availing CGHS facilities while in service. Further, it is not necessary that these pensioners / family pensioners should be living in the areas covered under the CGHS.
Presently the CGHS facilities are available in the following cities:
Allahabad, Ahmedabad, Bangalore, Bhopal, Chandigarh, Chennai, New Delhi, Faridabad, Ghaziabad, Gurgaon, Guwahati, Hyderabad, Jaipur, Jabalpur, Kanpur, Kolkata, Lucknow, Meerut, Mumbai, Nagpur, Noida, Patna, Pune, Shillong, Thiruvananthapuram.
The Central Govt. Health Scheme provides comprehensive health care to the CGHS Beneficiaries in India. The medical facilities are provided through Wellness Centres (previously referred to as CGHS Dispensaries) /polyclinics under Allopathic, Ayurveda, Yoga, Unani, Sidha and Homeopathic systems of medicines.
a. 273 allopathic dispensaries, 19 polyclinics, 85 Ayush dispensary/ units
b. 3 Yoga Centres
c. 73 Laboratories
d. 17 Dental Units
How to Join CGHS after Retirement
To Join CGHS after retirement, the pensioners / family pensioners have to get their names registered with any of the CGHS dispensaries after submitting an application in the prescribed proforma for the issue of a CGHS identity card.
Procedure to Register with CGHS
1. One can get a CGHS card made from the office of AD / JD of the City.
2. Forms can be downloaded from CGHS Website or can be taken from office of AD / JD of city.
3. Documents required
i. Application in prescribed format
ii. Proof of Residence proof of Stay of dependants
iii. Proof of age of son
iv. Disability certificate, if any in case of sons aged 25 & above, who would otherwise cease to be a beneficiary.
v. Photos of eligible family members
vi. Surrender Certificate of CGHS Card while in service ( only in those cases where CGHS Card was issued while in service)
vii. Attested copies of PPO & Last Pay Certificate
viii. Draft for required amount towards CGHS contribution – in the name of 'P.A.O., CGHS New Delhi' in Delhi-and in the name of 'AD, CGHS of the city'.
ix. In case PPO is not ready for any reason there is option to get a provisional card on the basis of Last Pay Certificate.
x. The data is entered through computers and entered in data base and a printout is issued same day for immediate use. Plastic cards are subsequently sent to the residence of the card holder by post.
Download : : CGHS Frequently Asked Questions
Annual and One Time Life Time fee for joining CGHS
Pensioners who want to avail CGHS facilities can make contribution either on yearly basis or one time (ten yrs) contribution for whole life validity. The annual and one time fee for joining CGHS as per level wise provided in the table below.
Payment can be made by Demand Draft in favour of "P.A.O., CGHS New Delhi' in Delhi-and in the name of 'AD, CGHS of the city'. Contribution in respect of Pensioners are calculated on the basis of grade pay they are entitled had they been in service, but for superannuation.
Monthly Contribution for availing CGHS Facility Revised as per 7th CPC
The Monthly Contribution for availing CGHS facility as per 7th pay Commission is provided below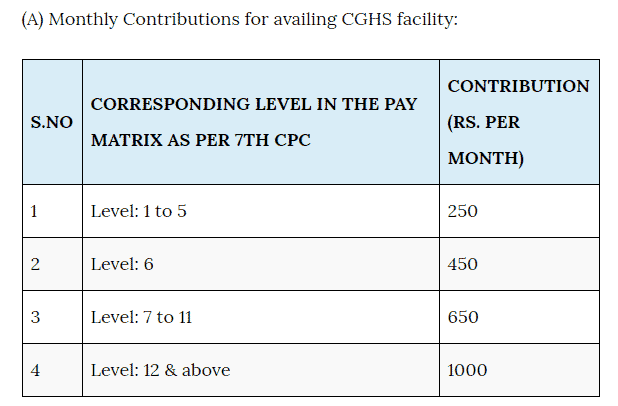 CGHS contribution for retired employees
Pensioners have an option to get their CGHS pensioner Card either by making CGHS Contribution on an annual basis (12 months Contribution) or by making contribution for 10 years (120 Months Contribution) for getting a Pensioner Card with Life Time Validity. Those who are willing to get CGHS card with Life Time validity should Pay the amount of 120 Months Contribution prescribed for respective Grade pay at the time of applying for CGHS Card.One Time Payment for Life Time validity
Entitlement of Wards in Private Hospitals as per 7th CPC Pay Matrix

Medical Allowance For Retirees Residing In Areas Not Covered Under CGHS. :
a. Pensioner residing in non- CGHS covered areas have the option to become CGHS beneficiary and avail CGHS facilities from the nearest CGHS covered city.
b. b.Pensioners residing in non-CGHS areas have also the option to avail Fixed Medical Allowance of Rs.1000/- per month and opt not to avail CGHS facility.
c. Pensioners residing in non-CGHS areas have also the option to avail Fixed Medical Allowance of Rs.300/- per month for OPD treatment and obtain CGHS card from nearest CGHS covered city for inpatient facilities under CGHS. No OPD medicines shall be issued in such cases.
d. CGHS pensioner beneficiaries (and their dependant and eligible family members) who are holding a valid CGHS Card and residing in a non-CGHS area shall be eligible to
i. obtain inpatient medical treatment and also follow up treatment from Govt. Hospitals / CS(MA) /ECHS approved hospitals on proper referral from CGHS dispensary and submit the medical reimbursement claim to the Addl. Director/ Joint Director of CGHS of city where the CGHS card is registered.
ii. In case of medical emergency , treatment may be obtained from any hospital and medical claim shall be submitted to AD/JD , CGHS of the concerned city.
iii. Reimbursement shall be limited to the CGHS rates of the city where the card is registered and as per the ceiling rates and ward entitlements or as per actual, whichever may be less.
Updated on 16-3-2018, 10.11.2022