The CG Staff are not yet given the full Benefit of 7th CPC Recommendation
The actual increase on account of implementation of 7th CPC recommendation is still not fully available to Central govt Staffs.
The recommendation of 7th Pay Commission has been implemented with effect from 1.1.2016 and the revised salary is being paid from this effective date. The Central Government, after implementing the Pay Panel report, hasn't announce any decision about Allowances even after 12 months, created frustration among central government employees.
The Pay Commission is constituted once in Ten Years to revise the Pay and Allowances and Pension for Govt Servants and Pensioners. Accordingly, the 7th Pay Commission was formed and it submitted its report to the Government on 19-11-2015. The Government Accepted the Report without any major changes and announced on 29.6.2016 that it would be implemented with effect from 1.1.2016.
Since the increase in salary which is paid from 1.1.2016 was very less, it has demolished the expectations of CG Staffs.
Very important aspect in revising Pay and Allowance is House Rent Allowance. The rates of HRA is determined based on the Population of the Cities in which the Govt Servants are working. Accordingly, 10,20 and 30% of Basic Pay was paid as HRA in Sixth CPC. The 7th CPC has recommended to revise it as 8%, 16% and 24%.
The Unions and Federations demanded to increase the HRA rates or at least to restore the Sixth CPC rates. Hence the Government has announced that a committee would be constituted to examine the Allowances, until then all the Allowances would be paid in Sixth CPC rates.
As a result of this, HRA is being paid in old rates (Sixth CPC ) along with revised 7th CPC Basic Pay to CG Staffs.
Now the CG Staffs have realized that very purpose of forming a high-level committee is not for resolving the issues but it is a delaying tactics.
Consequent to Pay Revision, the major increase in Salary is used to come from HRA only.
Though one year is completed after the implementation of 7th CPC recommendation, the Government is delaying to take the decision over allowances.
Due to this, the CG staffs are losing monetary benefits considerably
For example ..
The increase in Pay and HRA of a Government servant who is drawing salary Rs.10000 in pre revised scale is given below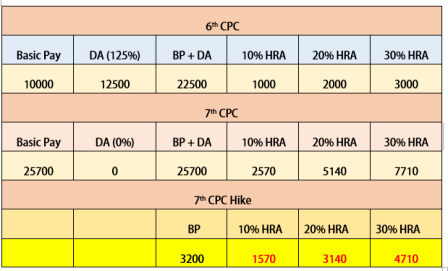 If the Monthly salary of the Government servant with 10 Years of service is Rs.22500, now the Actual increase of his salary is only Rs. 3200.
Through this example it is quite obvious that, one can get the real increase in salary only after the HRA is paid in 7th CPC revised rates.