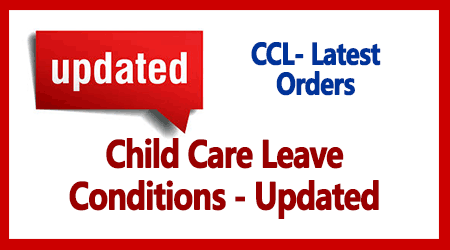 Latest updates on Child Care Leave Conditions are compiled here for Central government Employees reference
Some conditions stipulated for availing child care leave has been removed and updated after the implementation of 7th pay Commission.
Particularly stipulation for availing minimum CCL is now reduced to 5 days.
LTC during CCL was not allowed previously. Now DoPT has issued order for availing LTC during child care leave .
Age restriction has been removed in case of disabled child
CCL Conditions and Clarification Orders
1. Child Care Leave is granted to women Employees
2. Maximum 730 days can be availed in the entire service for rearing or looking after the Children below 18 Years
3. Age Restriction for CCL is not applicable in case of disabled children with 40% of disability. [ Latest DoPT order]
4. It is Admissible only for the eldest two children
5. It can be granted for taking care of children's needs like Examinations and illness etc
6. Child Care Leave cannot be taken without prior approval.
7. It cannot be demanded as a matter of right
8. The CCL can be combined with leave of any other kind.
9. Child Care Leave may be granted less than 15 days in one spell. The stipulation of minimum 15 Days requirement has been removed vide this order READ MORE…
* Child Care Leave may not be granted for a period less than five days at a time [ Latest DoPT order]
10. Maximum Three spell allowed in a year. READ MORE…
11. LTC, Leaving Head Quarters is now allowed during Child Care Leave [ Latest DoPT order ]
12. CCL should not ordinarily be granted during the probation period except in case of certain extreme situations where the leave sanctioning authority is fully satisfied about the need of Child Care Leave to the probationer READ MORE…
The 7th pay Commission also recommended to extent the CCL to Single Male Parent. But Order is not issued so far
See Other important recommendation of 7th Pay Commission CCL and Orders [ Click to Read More]