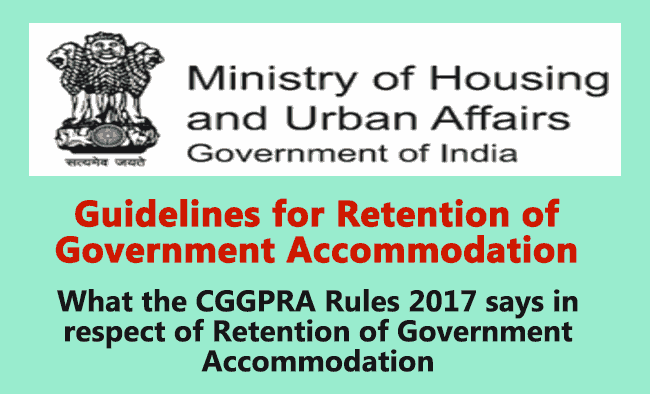 The following questions regarding Guidelines for Retention of Government Accommodation is raised under un starred Question No.715 and answered on 06.02.2020 at Loksabha
(a) whether the employees of autonomous organisations have to vacate their Government accommodations on taking up assignment in the personal staff of Hon'ble Ministers etc. and face difficulty in retaining their accommodation once they repatriate to their parent office;
(b) if so, the details thereof; and
(c) whether the Government proposes to work on some guidelines applicable to all organisations regarding retention of the Government accommodation in such cases and if so, the details thereof?
(a) & (b): The officers who are appointed in the personal staff of any Minister are allotted accommodation under Rule 33 of Central Government General Pool Residential Accommodation (CGGPRA) Rules, 2017, if they do not already have a GPRA accommodation. Otherwise they are entitled to retain their accommodation on appointment in personal staff of a Minister. On completion of their tenure with the Minister and on their repatriation to their parent Department, they may retain the accommodation if they are entitled for allotment of GPRA accommodation. In other cases, they may retain the accommodation for a period as allowed in Rule 40 of CGGPRA Rules, 2017 which is available on Directorate's website i.e www.estates.gov.in.
(c): There are already CGGPRA Rules, 2017 which prescribe period of retention under different circumstances for Central Government employees. There is no other proposal under consideration.
What the CGGPRA Rules 2017 says in respect of Retention of Government Accommodation
RETENTION OF ACCOMMODATION
Concessional period of retention. _
(1) The allottee may, subject to the conditions laid down in these rules, be permitted to retain the accommodation on the happening of any of the events specified in column (2) of the table below, for the period specified in the corresponding entry in column (3) thereof, provided that the accommodation is required for the bonafide use of the allottee or members of his family: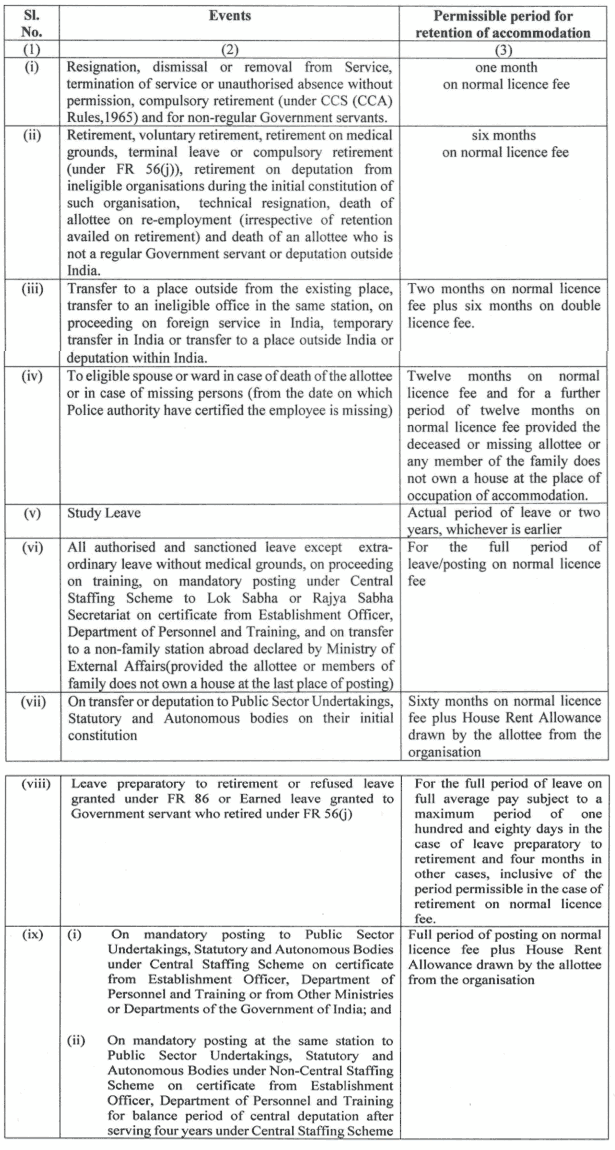 (2) The licence fee free allottees of general pool residential accommodation shall be allowed to retain the accommodation for a period of one month on retirement:
Provided that on expiry of one-month period, the allottee shall pay licence fee for retention of accommodation as prescribed in these rule.
(3) All allottees of general pool residential accommodation shall furnish a self-certificate to the Directorate of Estates in case they are on leave for more than six months and retention of accommodation is required for family.