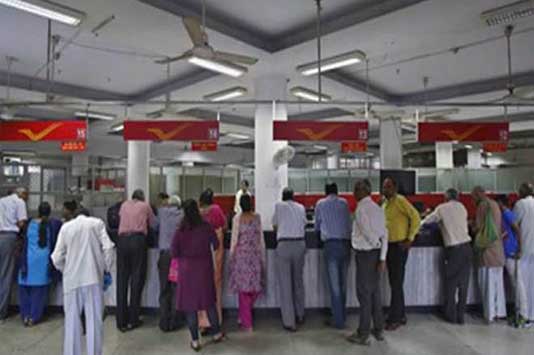 Post Offices have been identified as offices for providing essential services and therefore, exempted from lock down provisions and will continue to function as before
No. Z-92011/25/2020-Coord/O&M
Government of India
Ministry of Communications
Department of posts
Dak Bhawan, Sansad Marg,
New Delhi-110001
Dated 04-05-2020
subject: Instructions regarding handling situation and disruption on account of COVID-19
In continuation of letter of even No. dated 25_03_2020 (copy enclosed) vide which Ministry of Home Afrairs order.No. 40-3/2020-OM-1 (A) dated 24.03.2020 was issued, wherein, detailed guidelines have been issued regarding measures to be taken by Ministries / Departments of Govemment of India in connection with lock down orders for containment of spread of COVID l9 epidemic in the country.
As per the MHA's orders issued on 24.03.2020,Post Offices have been identified as offices for providing essential services and therefore, exempted from lock down provisions. Since the lockdown has been further extended from 04-05-2020 to 17-05-2020, post offices will continue to function as before.
(Pawan Kumar Singh)
Director Admin
View the latest Postal Employees News
Department of Posts Letter dated 25.3.2020 regarding lockdown
No. 7-920 1 I I 25 I 2020-Coord/O&M
Government of India
Ministry of Communications
Department of Posts
Dak Bhawan, Sansad Marg,
New Delhi – 110001
Dated 25-03-2020
To
All Chief Postmasters General
Subject: Instructions regarding handling situation and disruption on account of COVID -19 – reg.
Kindly refer to lvinistry oI Home Aflairs Order No. 40-3/2020-DM-l (A) dated 24.03.2020, wherein, detailed guidelines have been issued regarding measures to be taken by Ministries / Departments of Govemment of lndia in connection with lock down orders for containment of spread of COVID 19 epidemic in the counky
2.As per Para '1 of Annexure of the orders under reference, Post Offices have been identified as offices for providing essential services and therefore, have been exempted from lock down provisions. ln view of the changed scenario, instructions as contained in Annexure are issued in continuation of this office letter of even no dated 24.03.2020
3.All the instructions contained in Annexure will be implemented, keeping in view the instructions issued by the Department of Personnel & Training and Ministry of Health & Family Welfare to prevent spread of COVID 19
(Pawan Kumar Singh)
Director (MO & Admn.)