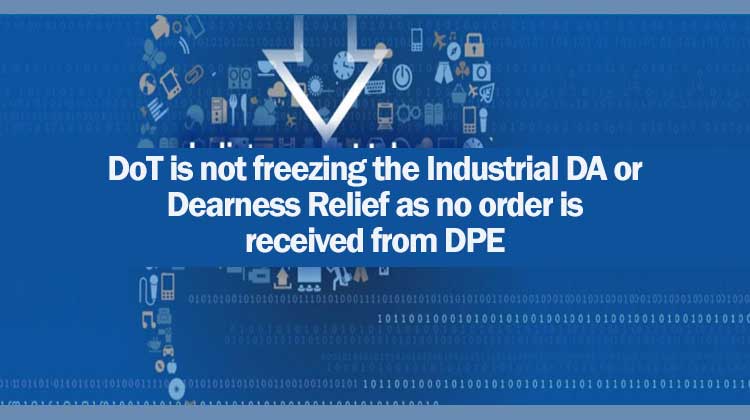 DoT is not Freezing Industrial DA or Dearness Relief as no order is received from DPE
On account of no orders on freezing of IDA/ IDR is not issued by DPE so far, it has been decided that in partial modification of previous order under reference all pension related benefits be released as per rate of Dearness Relief as per latest extant order from DPE i.e. @ 160.7%
Department of Telecommunication Order for not Freezing IDA/Dearness Relief
Department of Telecommunication OM No. 1/Misc/Pen/ Issue/ BSNL/DDG (Accounts)/2019-Part-11585-1615 Date 26.05.2020
Ref: O. M. No. 1/Misc/Pen/Issue/BSNL/DDG(Accounts)/2019-Part-1/1407-1439 dated 28.04.2020 (copy enclosed)
Kindly refer to this office O. M. No. 1/ Misc/ Pen/ Issue/ BSNL/ DDG (Accounts)/ 2019-Part-1/ 1407-1439 dated 28.04.2020 on the subject of Industrial Dearness Relief for Central Government pensioners.
Expected DA from July 2020 may increase by 4% : Read Here
The matter has been reviewed and on account of no orders on freezing of IDA/ IDR, it has been decided that in partial modification of previous order under reference all pension related benefits be released as per rate of Dearness Relief as per latest extant order from DPE i.e. @ 160.7%.
(S. N. Mishra)
Director (DFU)
E-Mail: [email protected]
DPE has not issued order to Freeze the IDA and Dearness Relief
Government of India
Ministry of Communications
Department of Telecommunication
20, Ashoka Road, Sanchar Bhawan
New Delhi-110001
No. 1/Misc/Pen/Issue/BSNL/DDG(Accounts)/2019-Part-1/1407-1439
Date 28.04.2020
OFFICE MEMORANDUM
The decision to freeze dearness relief for central government pensioners at current rates (prior to 1.1.2020) vide OM dated 23.4.202 has been taken. Instruction on similar lines has not been issued by DPE which shall be applicable to BSNL and MTNL pensioners drawing pensioner from Govt of India. In view of the current status it has been decided that:
(1) Pension for the month of April 2020 be disbursed at dearness relief @ 160.7% till further guidelines from DPE for pensioners retiring prior to 1.4.2020.
(ii) For those retiring in April 2020, retirement benefits (paid by CCAs) be paid at old Dearness relief as on 1.4.2020 till further guidelines from DPE.
S.N.Mishra
Director (DFU)