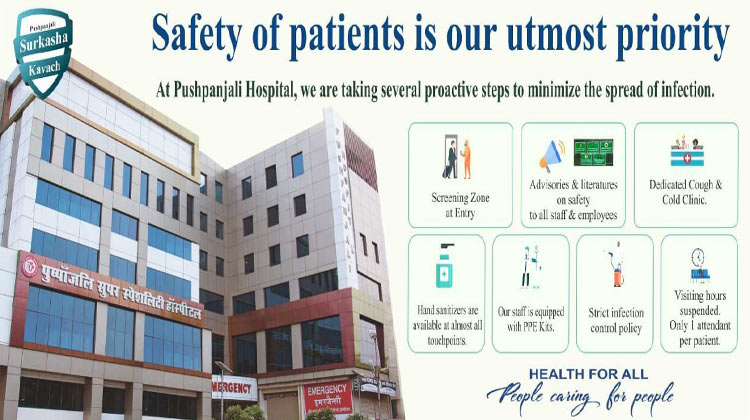 Pushpanjali Hospital & Research Centre Pvt. Ltd has been empanelled under CGHS for the period from 20.01.2021 To 19.01.2023
No. 3-216 /CGHS/LKO/2020/1078- 89
Govt. Of India Office of the Additional Director
Central Govt. Health Scheme
B-114-115, Vibhuti Khand, Gomti Nagar, Lucknow-226010.
Dated: 20.01.2021
OFFICE MEMORANDUM
As per Directorate General of Central Government Health Scheme Office Memorandum No. S.11045/36/2012/CGHS (HEC), Dated 26.12.2017 & office memorandum No. S.11011/01/2016/CGHS-III dated: 25.01.2019 the under mentioned QCI recommended / NABH Accredited HCO is being empanelled for various procedure / treatment / investigations under continuous empanelment scheme 2017 with their current status as per terms and conditions of MOA 2017. The package rates to be paid to HCO for various procedures / treatment / investigations that have been approved by the competent authority of CGHS will be 90% of the rates approved for CGHS Delhi NCR

Additional Director
CGHS, Lucknow.
To,
The Administrator
Pushpanjali Hospital & Research Centre Pvt. Ltd. :
Pushpanjali Palace, Delhi Gate :
Agra – 282002.
Email – pushpanjalihospital.in