PCDA – 9th International Day of Yoga
Through PCDA (WC) Website
GOVERNMENT OF INDIA
MINISTRY OF DEFENCE
PRINCIPAL CONTROLLER OF DEFENCE ACCOUNTS (WC)
SECTOR -9, CHANDIGARH
No. AN/III/1175/ Yoga Day
Dt:- 19.05.2023
CIRCULAR
Sub: Celebration of 9th International Day of Yoga on 21st June 2023
A copy of MoD ID No. B-11011/05/2023/D( Welfare) dated 11.05.2023 received vide HQr office letter No. AN/III/3012/Yoga Diwas/2023 dated 17.05.2023 regarding Observance of 9t International Day of Yoga (IDY), 2023 on 21st June 2023 is enclosed herewith for information and necessary action please.
A list of activities to be organized in PCDA (WC) Sector-09, Chandigarh on the occasion of IDY 2023 as emphasized in the ibid letter is enclosed as Annexure-A
All sub-offices under this organization are requested to organize similar activities with special emphasis on "Har Angan Yog" on 9th international Day of Yoga and a report in this regard along with photographs/videos of the activities undertaken may be forwarded to this section through email at [email protected] for consolidation and onward submission to the HQr office.
Encls. : As above
(NAGESH SUDEN)
Dy. CDA (AN)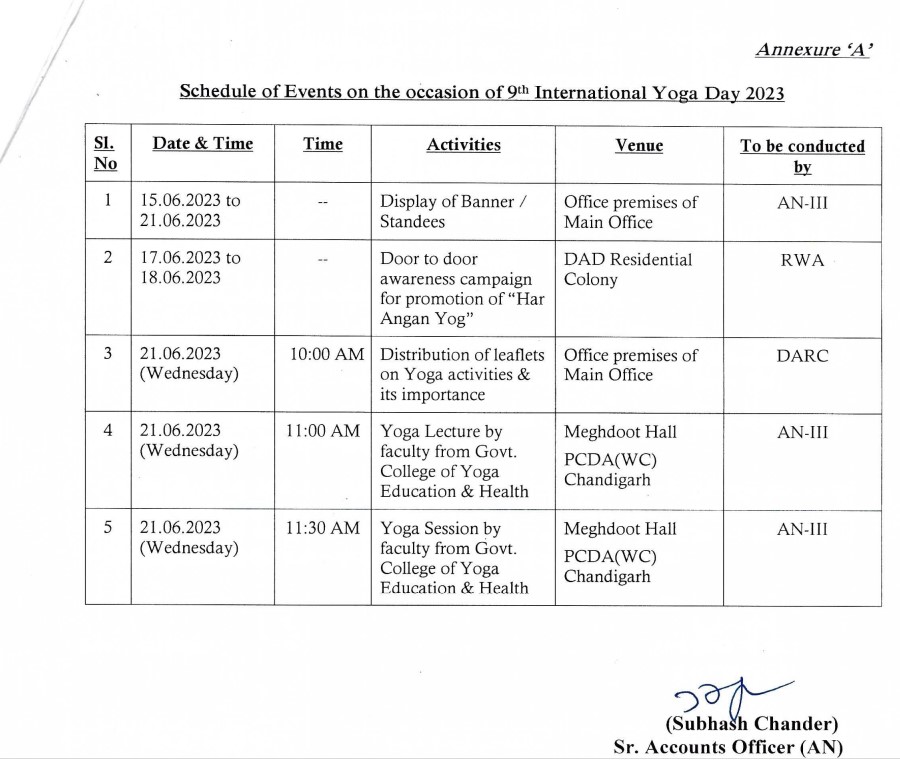 Click here to View / download the Order pdf