Understanding the Impact of July 2023 AICPIN Increase on January 2024 DA Rate
July 2023 AICPIN increased by 3.3 Points
The July 2023 AICPIN Surge and January 2024 DA rate may reach 50% level
The July 2023 AICPIN increase of 3.3 points has taken many by surprise. This surge indicates a rise in the overall cost of living for industrial workers. The AICPIN is calculated based on various factors, including food, housing, clothing, and more. Any increase in these essential components can directly impact the AICPIN.
If the AICPIN continues to rise steadily in the coming months, there is a high likelihood that the January 2024 DA rate will indeed reach the 50% level. This would be a welcome development for beneficiaries, as it would help them keep pace with the increasing cost of living.
January 2024 DA rate may reach 50%
The increase in the July 2023 AICPIN by 3.3 points has set the stage for potential changes in the January 2024 DA rate. While we cannot predict the exact percentage at this point, the possibility of it reaching the 50% level is on the horizon. Government employees and pensioners should keep a close eye on the AICPIN in the coming months, as it will provide valuable insights into their future financial well-being. As always, staying informed about these economic indicators is essential for making informed financial decisions. See the January 2024 DA Calculator
Consumer Price Index for Industrial Workers (2016=100) – July,2023– Press Release
July 2023 AICPIN increased by 3.3 Points
The Labour Bureau, an attached office of the M/o Labour & Employment, has been compiling Consumer Price Index for Industrial Workers every month on the basis of retail prices collected from 317 markets spread over 88 industrially important centres in the country. The index is compiled for 88 centres and All-India and is released on the last working day of succeeding month. The index for the month of July, 2023 is being released in this press release.
The All-India CPI-IW for July, 2023 increased by 3.3 points and stood at 139.7 (one hundred thirty nine point seven). On l-month percentage change, it increased by 2.42 per cent with respect to previous month compared to increase of 0.90 per cent recorded between corresponding months a year ago.
The maximum upward pressure in current index came from Food & Beverages group contributing 2.86 percentage points to the total change. At item level, Rice, Arhar Dal/Tur Dal, Apple, Mango, Brinjal, Garlic, Ginger, Gourd(Lauki), Chilies Green, Potato, Onion, Tomato, Cumin seed/Jira, Supari, Saree Cotton, Shirt, T-shirt-readymade, School uniform, Leather Sandle, Chappal, Canvas Shoes, House rent, Auto-rickshaw/Scooter fare, Repair/Service Charges, Utensils, Medicine allopathic etc. are responsible for the rise in index. However, this increase was largely checked by Electricity (domestic) Charges, Kerosene oil, etc. putting downward pressure on the index.
At centre level, Gurugram recorded a maximum increase of 8.3 points. Among others, 3 centres recorded increase between 7 to 7.9 points, 4 centres between 6 to 6.9 points, 10 centres between 5 to 5.9 points, 15 centres between 4 to 4.9 points, 14 centres between 3 to 3.9 points, 25 centres between 2 to 2.9 points, 9 centres between 1 to 1.9 points and 4 centres between 0.1 to 0.9 points. On the contrary, Keonjhar recorded a decrease of 1.0 point. Rest of two centers index remained stationary.
Year-on-year inflation for the month stood at7.54 per cent compared to 5.57 per cent for the previous month and 5.78 per cent during the corresponding month a yeff before. Similarly, Food inflation stood at 11.87 per cent against 6.00 per cent of the previous month and 5.96 per cent during the corresponding month a year ago.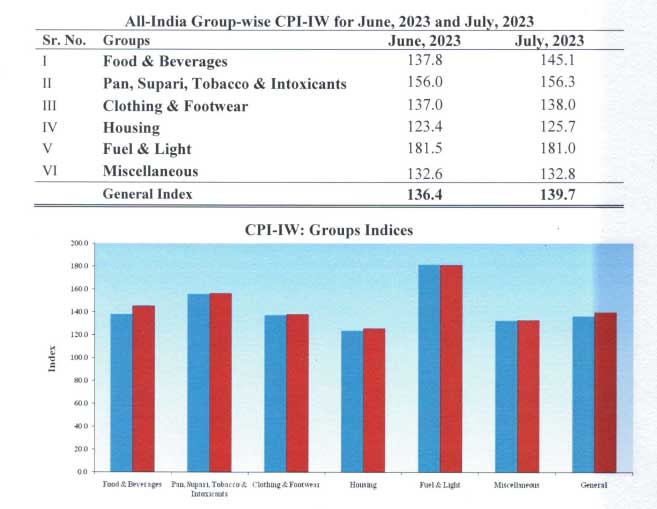 The next issue of CPI-IW for the month of August, 2023 will be released on Friday, 29th September, 2023. The same will also be available on the office website www. labourbureau.gov.in
Get Free Email Updates of Gservants News