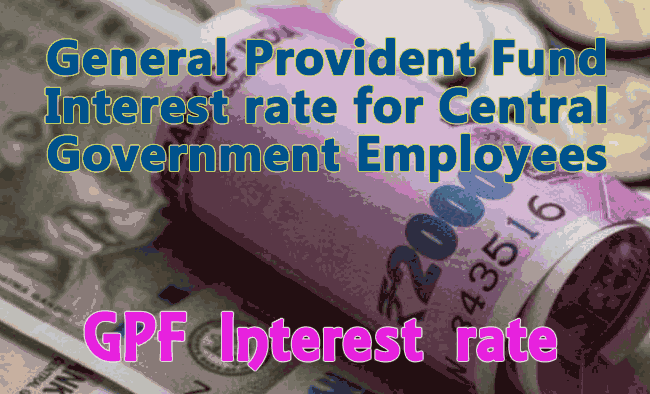 The interest rate for GPF will be determined for each quarter according to the method of calculation from time to time by the Central Government to its employees.
The Central Government Employees those who are eligible to subscribe General Provident Fund will get this Interest rate benefit.
Subject to the provision of sub-Rule (5) of General Provident Fund (Central Services) Rules 1960, Government shall Pay interest to the Credit of the subscriber at such rate determined by Department of Economic Affairs Ministry of Finance, Government of India.
Normally Central Government Civilian Employees appointed before 1.1.2004 were eligible to subscribe to the General Provident Fund at the rate not less than 6% of his total emoluments.
The GPF Interest rate table and pdf format is given below
| Month and Year | Interest Rate | Link |
| --- | --- | --- |
| 1st Jan 2020 to 31th March 2020 | 7.9% | Click Here |
| 1st Oct 2019 to 31st December 2019 | 7.9% | Click Here |
| 1st July 2019 to 30th Sep 2019 | 7.9% | Click Here |
| 1st April 2019 to 30th June 2019 | 8% | Click Here |
| 1st January 2019 to 31th March 2019 | 8% | Click Here |
| 1st Oct 2018 to 31st December 2018 | 8% | Click Here |
| 1st July 2018 to 30th Sept 2018 | 7.6% | Click Here |
| 1st April 2018 to 30th June 2018 | 7.6% | Click Here |
| 1st January 2018 to 31th March 2018 | 7.6% | Click Here |
| 1st Oct 2017 to 31st December 2017 | 7.8% | Click Here |
| 1st July 2017 to 30th Sep 2017 | 7.8% | Click Here |
| 1st April 2017 to 30th June 2017 | 7.9% | Click Here |
| 1st January 2017 to 31th March 2017 | 8% | Click Here |
| 1st Oct 2016 to 31st December 2016 | 8% | Click Here |
| 1st July 2016 to 30th Sept 2016 | 8.1% | Click Here |
| 1st April 2016 to 30th June 2016 | 8.1% | Click here |
The Interest rate GPF for central government Employees from 1st April 2016 to 31st march 2020 is provided above. The order link also provided in the GPF Interest table