AICPIN for Industrial Workers for the Month of December 2016 is released by Labour Bureau yesterday.
December 2016 AICPIN and Expectation on January 2017 DA
According to the press release, the All India CPI-IW for December 2016 decreased by 2 points and stood at 275. It almost dashed the hopes of all central govt employees on expected DA. Initially it is expected that the January 2017 DA may reach at 5% level with increase of 3% from the existing 2%. But this 2 point decrease from last month's AICPIN impacted heavily on the expected rate of DA from January 2017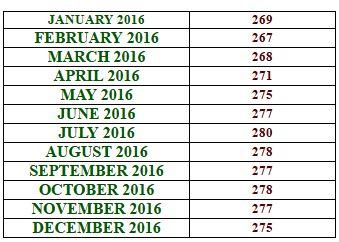 All the 12 Months AICPIN which determines the rate of DA to be paid from January 2017 are released. It is now confirmed that the rate of DA from January will be enhanced by 2% . Total percentage of DA to be paid will be 4% with effective from 1st January 2017.The necessary DA order will be issued after the Cabinet Approval in the month of March 2017.