Official Pre 2016 Pension Calculator with results of two Options
An Official and authoritative Pre 2016 Pension calculator to calculate Revised Pension in both the two options has been prepared by Department of Pension and Pensioners Welfare.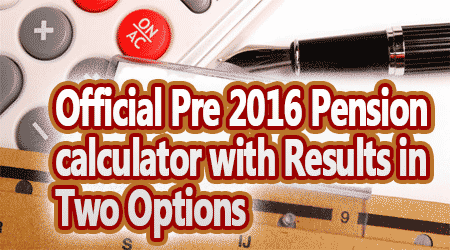 We have, immediately after the issuance of Order for revised 1st option [ See ], posted pre 2016 Pension arrears Calculator in our website . Though there were very few issues in this Calculator, 99% of the results are matching with this official calculator.
Pre 2016 Pensioners shall now be able to refer their revised Pension through this Official Pension calculator issued by DoPPW to check their amount of Pension is correct or not. Since the results of both the Options are provided in this calculator, the pre 2016 Pensioners from 4th CPC to Sixth CPC are able to choose the better option to revise their 7th CPC Pension.
As this is being the Official Pre 2016 Pension calculator , the Pensioners can however establish their claim over pension is correct if there is any discrepancy in payment of Pension by referring this Official pre 2016 Pension calculator with results of two options.
To go to Official Pre 2016 Pension calculator : Click Here
To Know the 7th CPC Pension Arrears Details : Click Here