Additional Director Pay Fixation Example in TN 7th CPC Pay Revision
As per of Tami Nadu Revised Pay Rules 2017 , the Pay Fixation Example for Additional Director is given below
SCHEDULE-V.
Illustration-II (As per Rule 7 (1)(ii))
An Additional Director is presently drawing a Basic Pay of ₹53,590 (Pay in the Pay Band ₹44790 + Grade Pay
₹8800 = ₹53590). After multiplying ₹53,590 with 2.57, a figure of ₹1,37,726.30 is arrived at. This is rounded off to ₹1,37,726. The level corresponding to GP 8800 is Level 29, as may be seen from Table, which gives the full correspondence between existing Grade Pay and the new Levels being proposed. In the column for Level 29, the figure equal to or higher than ₹1,37,726 is ₹1,38,800.
Hence the pay of Additional Director will be fixed at ₹1,38,800 in level 29 in the new pay matrix as shown below: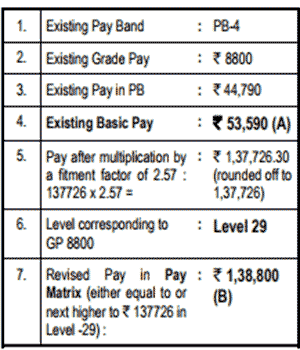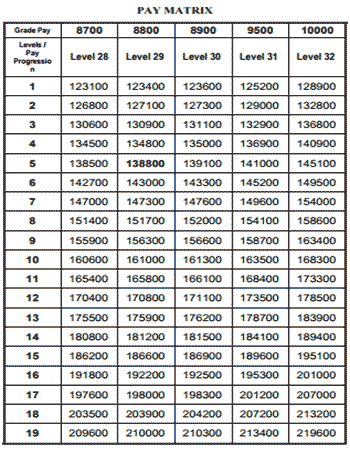 Click to See : TN 7th CPC Pay Revision -Junior Asst Pay Fixation Example