It is now decided to notify CGHS package rates for the following investigations which were not available and now included in CGHS rate list 2020
S-11011/09/2019/Addg.HQ/CGHS
Government of India
Ministry of Health and Family Welfare
Department of Health & Family Welfare
Directorate General of CGHS
Nirman Bhawan, New Delhi
Dated the 14th January, 2020
OFFICE MEMORANDUM
Subject:-Notification of CGHS Rates for 15 Investigations under CGHS
With reference to the above mentioned subject the undersigned is directed to draw attention to the Office memorandum No S. 11045/36/2012-CGHS(HEC) dated 01,10.2014 vide which CGHS package rates for various treatment procedures and investigations were notified by the Government for Health Care Organizations (HCOs) empanelled under CGHS and to state that representations from various stake holders regarding non-availability of CGHS rates for some of the investigations have been received in this Ministry. The matter was reviewed and it is now decided to notify CGHS package rates for the following investigations and their inclusion in CGHS rate list as under: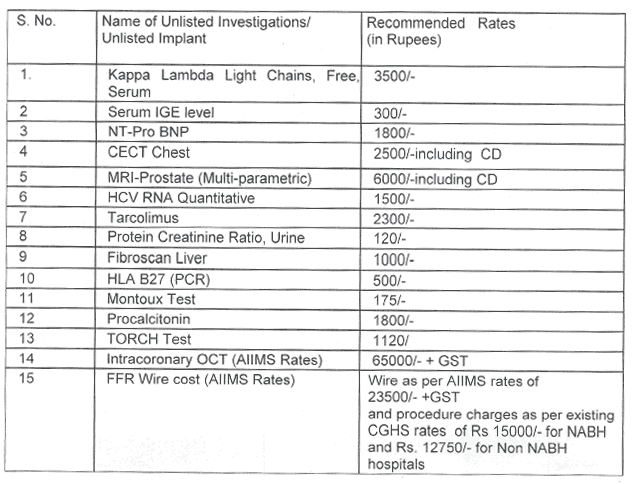 The rates for investigations from S. No. 1 to S. No. 13 are for Non-NABL/Non-NABH accredited HCOs. The rates for NABL/ NABH accredited HCOs shall be 15% more. The rates from S. No. 14 & 15 shall be common for both NABH-accredited/Non-NABH accredited HCOs.
These rates shall come into force from the date of issue of the letter.
This issues with concurrence of Integrated Finance Division of Ministry of Health & Family Welfare vide CD No 3495 dated: 13.01.2020.