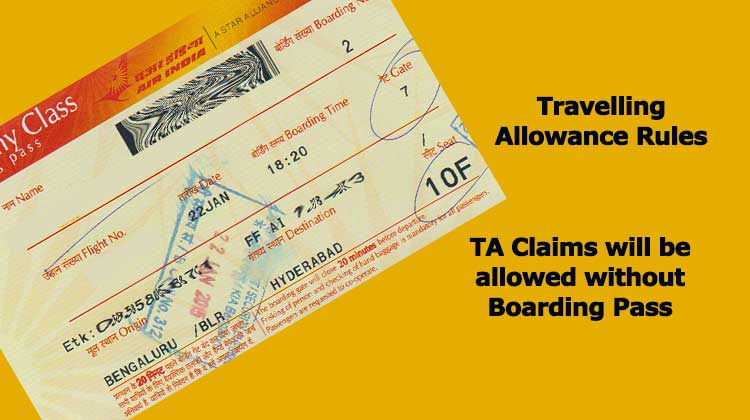 As per the instructions of Department of Expenditure, the TA Claims will be allowed without Boarding Pass. However he can submit a self-declaration certificate in lieu of Boarding Pass along with TA Bill
No. 19030/3/2014-E.LV
Government of India
Ministry of Finance
Department of Expenditure
North Block, New Delhi,
Dated the 23rd June, 2020.
OFFICE MEMORANDUM
Travelling Allowance Rules- Submission of Boarding Pass along with TA Bill.
The undersigned is directed to refer to this Department's O.M. No 19030/3/2014-E.IV dated 08.10.2014 regarding submission of Boarding Pass as a proof that the journey was actually performed by the official.
Several references are being received in this Department to do away with the condition of submission of Boarding Pass with the TA claims. The matter has been considered in this Department and it has been decided that in case, a Government servant is unable to submit the Boarding Pass along with TA Bill, he can submit a self-declaration certificate in lieu of Boarding Pass along with TA Bill. The proforma for self certification is enclosed as Annexure. The proforma needs to be countersigned by the Controlling Officer in case of officials below the Under Secretary level (i.e. from Pay level 10 and below).
These instructions will be applicable in respect of journey on tour performed by employees of Central Government. Ministries/ Departments are advised that these instructions may be brought to the notice of all concerned for compliance.
(Nirmala Dev)
Deputy Secretary to the Government of India