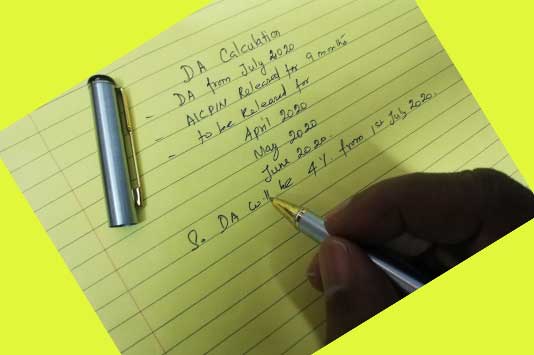 After the latest news about freezing of DA, the importance of expected DA from July 2020 and January 2021 may not be underestimated as these hikes will be taken into account from 1.7.2021
Apart from Annual Increment, the Central Government Employee's only hike in salary comes from Dearness Allowance (DA) twice a year to compensate the price rise of essential commodities.
Hence everyone interested to calculate the hike in next instalment of DA. Since 4% increase in DA instalment from January 2020 has been approved by Union Cabinet, now the focus has shifted towards expected DA hike Calculation from July 2020. Let us see the AICPIN Chart below:
Read : Release additional DA with immediate effect-Plea in Delhi High Court
Month/ Year
CPI(IW) BY2001=100
DA%
Monthly Increase
Jul 2019
319
17.65
Aug 2019
320
18.26
Sept 2019
322
18.93
Oct 2019
325
19.67
Nov 2019
328
19.76
Dec 2019
330
21.42
Jan 2020
330
22.16
Feb 2020
328
22.83
Mar 2020
326
23.37
April 2020
–
May 2020
–
June 2020
–
The AICPIN for Industrial Workers started decreasing 2 Points for two months consecutively. This decrease in AICPIN has pitched the doubts on the possibility of expected DA increasing by 5% from 1st July 2020.
But, in spite of AICPIN decrease, now it is expected from the calculation that DA will increase by 4% from July 2020 .
Even if AICPIN sustains with existing 236 Points up to May 2020 and 1 points increase in June 2020 will give 4% DA hike from 1st July 2020
Here is the Expected DA Calculator from July 2020 : Calculate yourself
DA frozen but the hike from July 2020 will be taken into account from 1.1.2021
Amidst coronavirus outbreak , the central government suddenly issued order to freeze the Dearness Allowance and Dearness Relief at the current rate level from January 2020 to June 2021.
Around 40 Lakhs Central Government Employees and 50 Lakhs Pensioners were shocked by this announcement. But as our country is facing unforeseen crisis now, we need to co operate with the Government in its fight against the dangerous COVID 19 pandemic.
Keeping this in mind, all the central Govt employees and Pensioners have accepted the Government decision with out any protest. But it was a relief that govt assured to restore these three DA hikes from 1st July 2021
But we have come out with a calculator to Know the DA Arrears Loss due to freezing of DA for the period of 18 Months
Here you can Calculate : how much DA arrears you will be losing ?