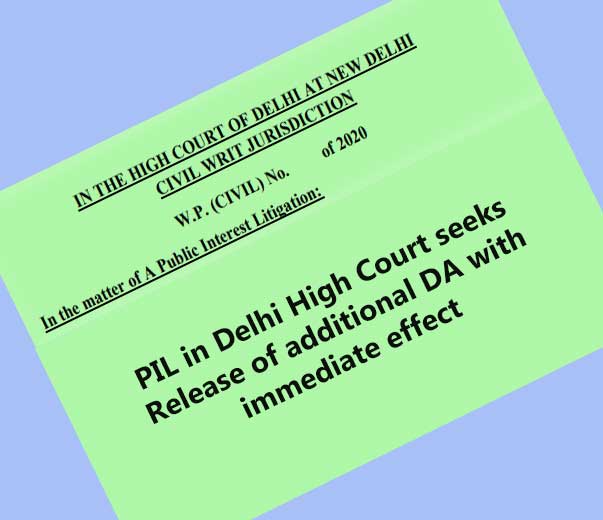 A Plea has been filed in the Honourable High Court of Delhi Challenging the Government's decision to freeze the Dearness Allowance and sought Court direction to release the additional DA with immediate effect
The Finance Ministry has issued an order to freeze the DA payable to Central Govt Employees at current rate level from January 2020 to June 2021 amidst Coronavirus outbreak. Following this order many State Governments including Govt of Delhi, Govt of Tamil Nadu also decided to stop the enhancement in Dearness Allowance till 1st July 2021.
---
Calculate Here – DA Arrears Loss Calculator for the Period of Freezing DA
---
So, one N. Pradeep Sharma, through Advocate Harsh K Sharma has filed a Public Interest Litigation in Delhi High Court challenging the orders of Central Government and Govt of Delhi issued on 23.4.2020 and 24.4.2020 respectively to freezing the DA
In his argument petitioner stated that "in the absence of Financial emergency, the decision to deprive the employees to be compensated for the rising inflation is a violation of Article 360 of Constitution of India"
He further stated that "right to receive salary is a property coming within the purview of Article 300A of the Constitution of India and the same can be deprived only by authority of law, the law means an Act of Parliament or an Act of Legislature. or at least a Rule having a statutory character"
---
Calculate : Expected DA increase from July 2020
---
It appears that the Orders freezing Dearness Allowance were issued in violation of the legal provisions said above
Hence the petitioner requested the Honourable High Court to issue direction to the Government to release the Additional DA with immediate effect as it will be morale booster to the Central and State Government Employees working in the testing time.
Written with inputs from :Live law