Around 40 Lakhs Central Government Employees are working in various Ministries and departments and they should know their service matters and latest news updates.
The Service Matters mostly in respect of Pay Fixation, MACP, Promotion, Allowances and Reservation related orders will be issued by various Ministries and Departments. The latest news of last week is below
Central Govt Employees central government employees news latest updates
There are many Central Government Employees News sites available in internet. But this Gservants.com is a Genuine Central Government Employees News portal provides you the reliable news about service matters of central Govt servants. Our team take extra care to avoid fake news and always try to post relevant news to the topic of the Posts.
G Servants News -Central Government Employees News Latest Update
G servants connects you through these Social Media Platforms given below to update you the Service matters of Govt Servants on daily basis. You can always be connected with us by following these pages. Follow our Face Book page here , and
twitter here and
get daily updates through email here
Today DA News
The most anticipated matter in respect of central government employees news latest updates today is DA news. The Dearness Allowance will be enhanced twice a year in the month of January and July. Today DA news is expected DA from July 2022. The DA calculator to calculate the Dearness Allowance from July 2022 is provided in G servants. Click here to visit the DA calculator Page
Rate of DA from 1.1.2016
Central Government DA News Today-Central Government Employees News Latest Update
As on today 31% DA is being paid to central Government Employees with effect from 1.7.2021. The DA Table provided above is for Central Government Staffs. The central Government had decided to freeze the DA at rate exists with effect from 1.1.2020.
Totally 3 DA instalments were not released after this order for freezing of DA . Subsequently Central Staffs had to forgo the 3 instalment DA increase for 18 months, since all these DA instalment were subsumed when the Government decided to release this with effect from 1.7.2021. See this Calculator to know how much one lost due to freezing of DA
DA Announcement Latest News Today
After the release of AICPIN for December 2021, the rate of DA to be enhanced by 3% from existing 31% to 34% with effect from January 2022  . The DA Announcement for this latest increase to be made by Union cabinet soon. Today this is the DA Announcement Latest News expected by all Govt Staffs.
We update all the DA announcements and Orders in respect of CPSE Employees, Bank Staffs , and DA for BSNL Staffs. To see the CPSE IDA and DA 
For DA for Bank Staffs Visit Here
7th CPC Latest News
7th CPC Latest News is updated here in Central Government Employees News Latest Update as and when any orders issued by various Ministries and Departments. 7th CPC Orders and other Instructions related service matters after implementation of 7th CPC is provided under this category.
Latest News 7th CPC
The latest news about 7th CPC is HRA slab is enhanced after the DA reached 25% Level See the Order. Also the New Pension Implementation Rules 2021 and CCS pension Rules 2021 are issued with incorporation of latest Clarifications and Instructions issued in this matter
Government Employee
Though the status of Government Employee has been changed after implementation of New Pension Scheme with effect from 1.1.2004, the interest for joining the Government Job is not diminishing. Every one feel pride of being a Government Employee. The Status in the society and Social recognition are the main factors which attract people towards Govt jobs. So there is nothing wrong to be a Government employee even the income is lesser than Corporate employee
Gservants-Central Government Employees News Latest Update
G servants is one of the few top level sites of Central Government Employees News Latest Update posting the Orders and Clarifications related to the service matters of Central government Employees. Especially Gservants is the only website which is posting its own article regarding service matters of Central Government Employees.
7th pay commission news in Central Government Employees News Latest Update
Pay matrix, Fitment factor, Minimum Pay and Revised Pension are the main topics of 7th Pay Commission News. Our central Government Employees News website Gservants was the first website which posted an article about projected 7th pay Commission Pay Scale. This was the first 7th Pay Commission News which gave a idea about what the 7th CPC Pay Scale would be.
Govt Employees Diary-Central Government Employees News Latest Update
All the Govt servants must maintain a Government Employees diary to note the important dates about their service matters. Appointment date, Annual Increment date, Date of Pay fixation, date of assumption of charges and date of retirement, these are all important dates that every one should not forget. So maintaining a Govt employees diary is must one to be followed.
CGE News
CGE News is short form of Central Government Employees News Latest Update. The CGE news consists of Leave Rules, Promotion Policy, Transfer Policy, Reservation, pension, Commutation and Retirement age. An overview of all these matters are available here
Staff News-Central Government Employees News Latest Update
After the implementation of 7th pay Commission, the Central Government Staffs are classified into three Groups. The Classification of Staff News is posted here. Click to read
Employees Newspaper
Latest news about central government employees updated in Gservants will be available in email as employees News paper. So to be kept updated about latest developments in service matters, you need to enter your email id in the subscription form and click subscribe. subscribe for email update. After this a verification link will be sent to your email id and click the verification link, then only your email subscription will get activated.
7th Pay Commission salary details
Pay Related matters including Pay Commission recommendation, Pay Scale and Salary elements orders are issued by Ministry of Finance. Now 7th CPC recommendations are in force for Central Government Employees from 2016. See All 7th CPC Updates
Now Pay Scale and Basic pay is available in one Table that is called Pay Matrix in 7th CPC . It is the latest update as far as Central Government Employees news is Concerned. See : 7th CPC salary Latest News
7th CPC Advances for CG Staffs
All the interest free Advances were removed with effect from the date issuance of 7th CPC Notification. Only interest bearing advances like House Building Advance, Computer Advance and Scooter Advance are retained. The Advances for Medical treatment and LTC are continued
House Rent Allowance (HRA)
The rate of HRA also revised as 24%, 16% and 8% for X, Y & Z class cities respectively. In previous Pay Commission era it was 30%, 20% and 10% . House rent allowance has been now made as DA index Allowance. Hence when DA reaches 25% level it will be revised as 27%, 18% and 9%. And when DA reaches 50% level then it will be revised as 30%, 20% and 10% for X, Y & Z class cities respectively. See HRA related latest updates
MACP in 7th CPC
For MACP, Bench mark criteria has been revised to Very Good to get financial upgradation under MACP Scheme. Click here to view Latest MACP News
Latest revised order for Child care Leave
Child care leave is now made available to single male parent. And salary for second 365 days will be 80% of the basic pay. As far as number of spells is concerned there is no change. CCL Latest News
Revised Rate of Children Education Allowance
As per the updated orders, Children Education Allowance is paid at teh rate of Rs.2250 per month to all Central Government Employees for their children studying upto 12th Standard. Children Education Allowance updates
Leave Rules for CG Staff Latest updates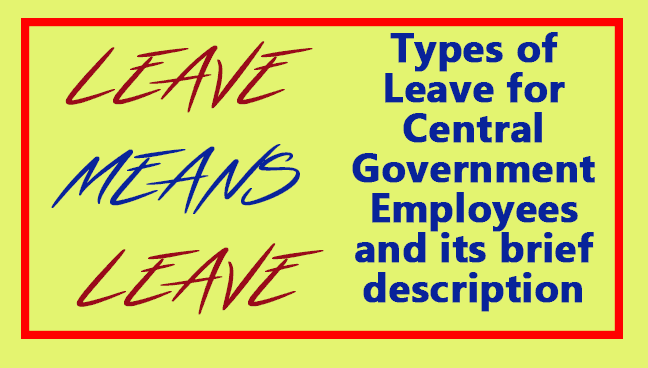 Leave Entitlements for Central Government Employees are framed under Central Civil Services (Leave) Rules 1972.
Various kinds of leave like Earned Leave, Half Pay Leave, Commuted Leave, Leave Not Due, Maternity Leave, Paternity Leave, Study Leave, Extraordinary Leave and Chile Care Leave etc are updated here See types of Leave and its updates
Latest DoPT Orders
The Department of Personnel and Training is Nodal Agency to deal with their service matters of Central Govt staffs. It issues instructions and Notifications in respect of all the matters related to Govt Servants time to time. Latest DoPT orders related with Central Government Employees will be updated here as a routine. [ View the Latest DoPT Orders ]
Central Government Employees Promotion Policy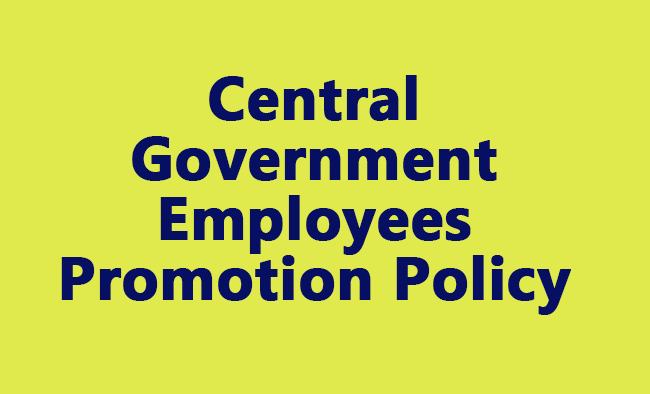 Promotions are given in accordance with the provisions in the Recruitment Rules / Service Rules for the respective posts. The consolidated guidelines on Departmental Promotion Committees (DPC) for making recommendations in regard to fitness of officials for promotion have been issued vide Department of Personnel & Training's OM No. 22011/5/1986-Estt.(D) dated 10.04.1989. The policy contained in this OM with regard to Benchmark, assessment of fitness, sealed cover procedure in respect of officers under cloud, zone of consideration for promotion, and other related matters has been reviewed and amended from time to time.
The important amendments made in the promotion guidelines during past six years are as under:-
These instructions are applicable to all Central Government Civilian Employees and Central Services except Railways Services and services under the control of the Department of Atomic Energy, the erstwhile Department of Electronics, the Department of Space and the Scientific and Technical Services under the Department of Defence Research and Development.
The state services are under Schedule VII of Constitution and States are empowered to make rules under Article 309 in respect of services and posts under them.
Promotion Policy in Armed Forces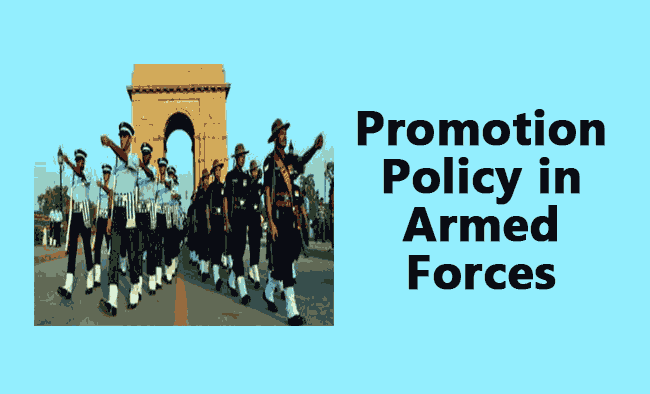 Promotion policies of Army, Navy and Air Force are structured to meet the operational and administrative requirements of the respective Services, thus some variations exist in the same.
(b) Promotion policies for select ranks for Indian Army officers are vacancy based and follow the principle of seniority and merit.
The parameters for substantive promotion in Indian Air Force (IAF)for officers other than Medical / Dental branches are stipulated in Air Force Instructions (AFI).
Promotions in Indian Navy are made based on the following broad parameters:
(i) Length of service.
(ii) Qualification in professional examination.
(iii) Mandatory Sea Time (Sea-going Branches / Cadres)
(iv) Medical standard and Vigilance clearance.
(v) Performance reflected in the Confidential Reports.
(c) Promotion policies are promulgated after due approval by the Government.